Album Title : Elvis As Recorded at Madison Square Garden (PROMO)
Catalogue Number : SPS - 33 - 571 - 1
Year Release : June 1972
Side 1 : Introduction: Also Sprach Zarathustra - That's All Right - Proud Mary - Never Been To Spain - You Don't Have To Say You Love Me
Side 2 : You've Lost That Lovin' Feelin' - Polk Salad Annie - Love Me - All Shook Up - Heartbreak Hotel - Teddy Bear / Don't Be Cruel - Love Me Tender
Side 3 : The Impossible Dream - Introduction By Elvis - Hound Dog - Suspicious Minds - For The Good Times
Side 4 : American Trilogy - Funny How Time Slips Away - I Can't Stop Loving You - Can't Help Falling In Love - And Exit Music
Brief History :

​​Elvis: As Recorded at Madison Square Garden is a live musical album recorded by Elvis Presley and released in June 1972 by RCA Records peaking on the charts in July 1972. Recorded at the Madison Square Garden arena in New York City on Saturday June 10, 1972, the concert, and the subsequent album, were promoted as being Presley's first live concerts in the Big Apple since the 1950s. It was certified Gold on 8/4/1972, Platinum on 5/20/1988, 2x Platinum on 3/27/1992 and 3x Platinum on 7/15/1999 by the RIAA.
Despite the lengthy track listing, the release was only a single disc, and the record was released only a week after the concert itself. Elvis' very next album would also be a live recording featuring many of the same songs: Aloha from Hawaii: Via Satellite.
The concert included on this album was the evening show. An afternoon performance was also recorded, but except for a performance of "I Can't Stop Loving You" which appeared in the 1977 compilation, Welcome to My World, it remained unreleased until the 1990s when it was issued as An Afternoon in the Garden.
Drummer Ronnie Tutt claimed in an interview in 2009 for the BBC documentary Elvis in Vegas that Colonel Tom Parker sped up the mixes so that more tracks could be on the album, increasing his publishing royalties. Tutt's account has never been proven as factual.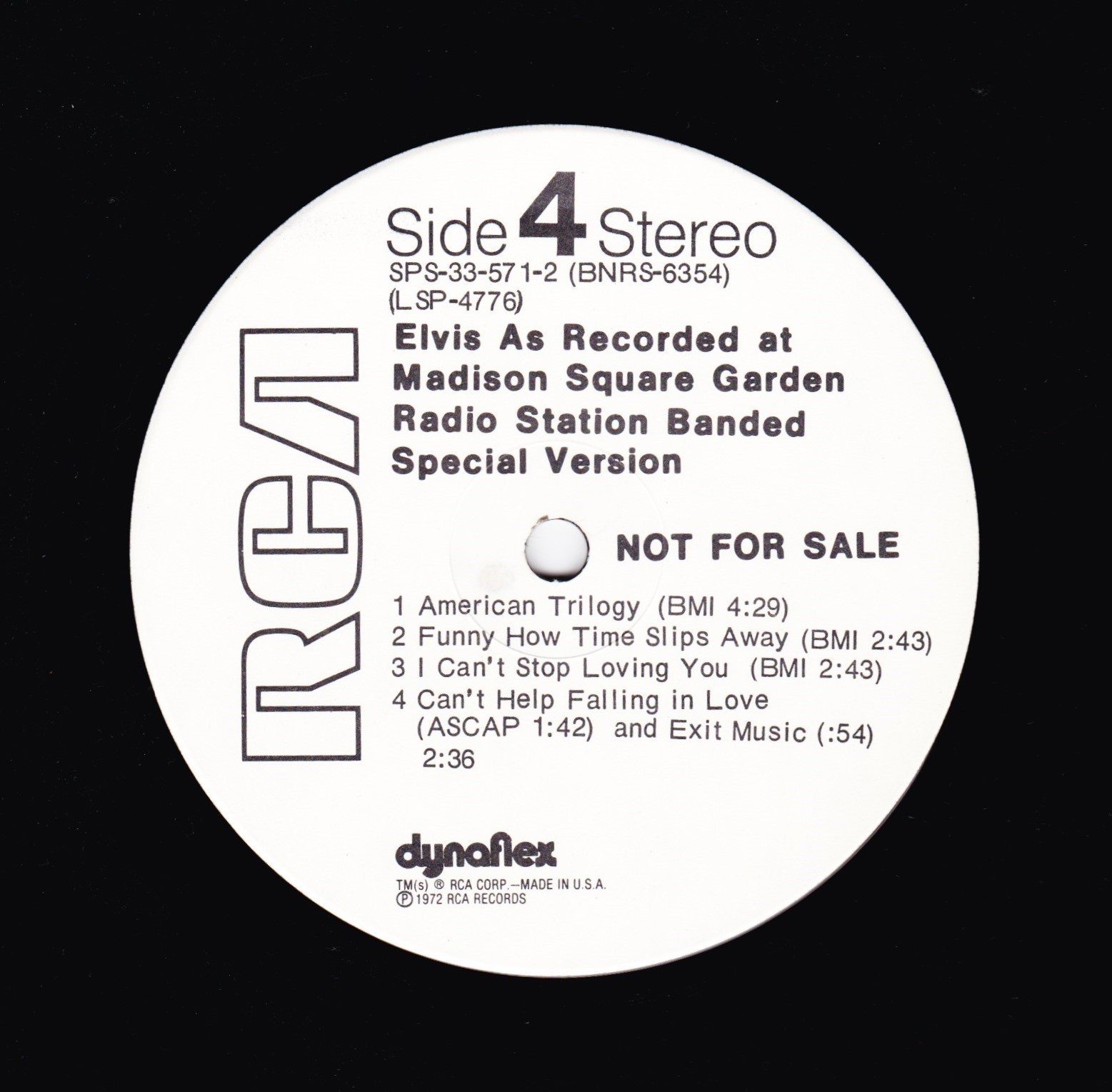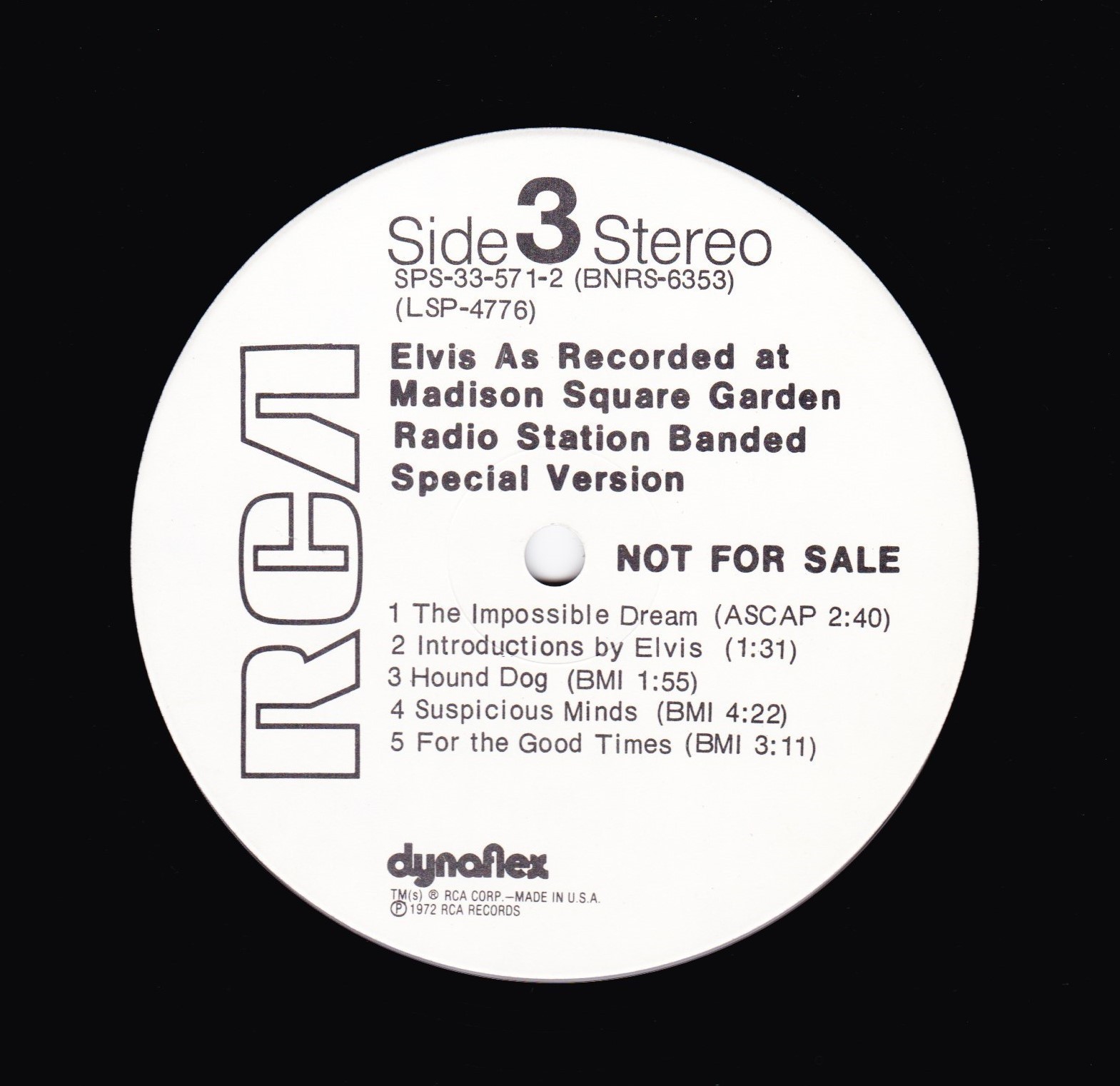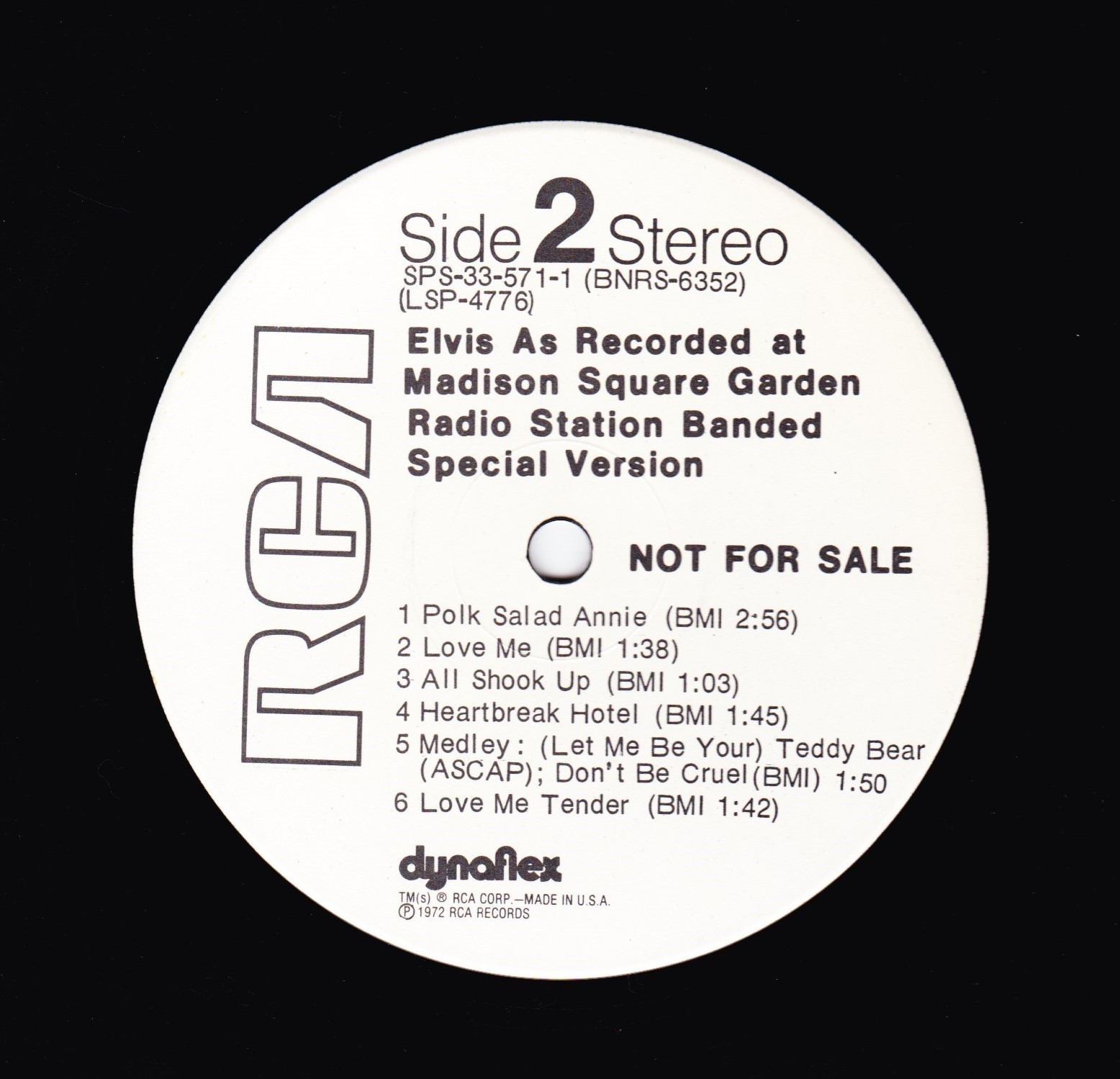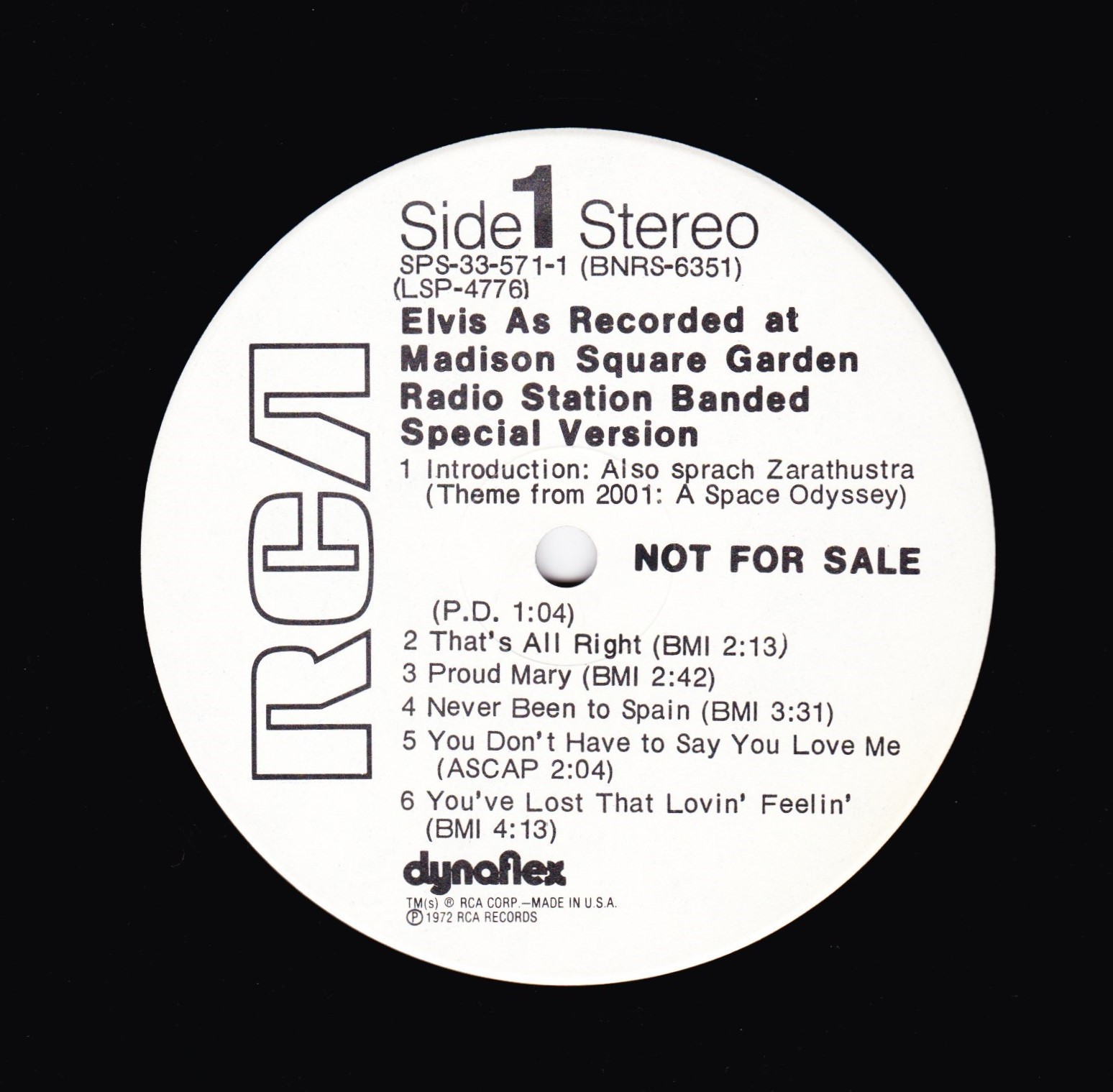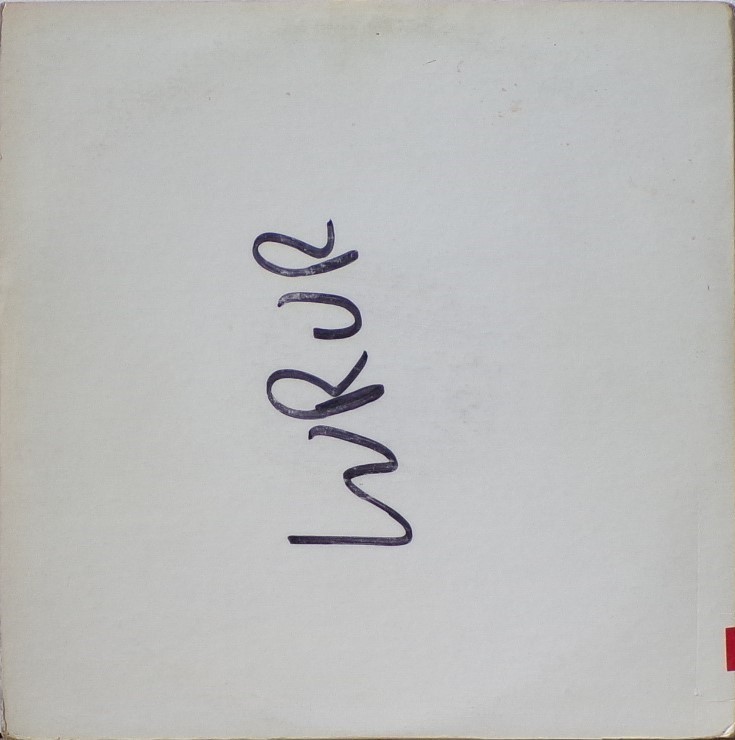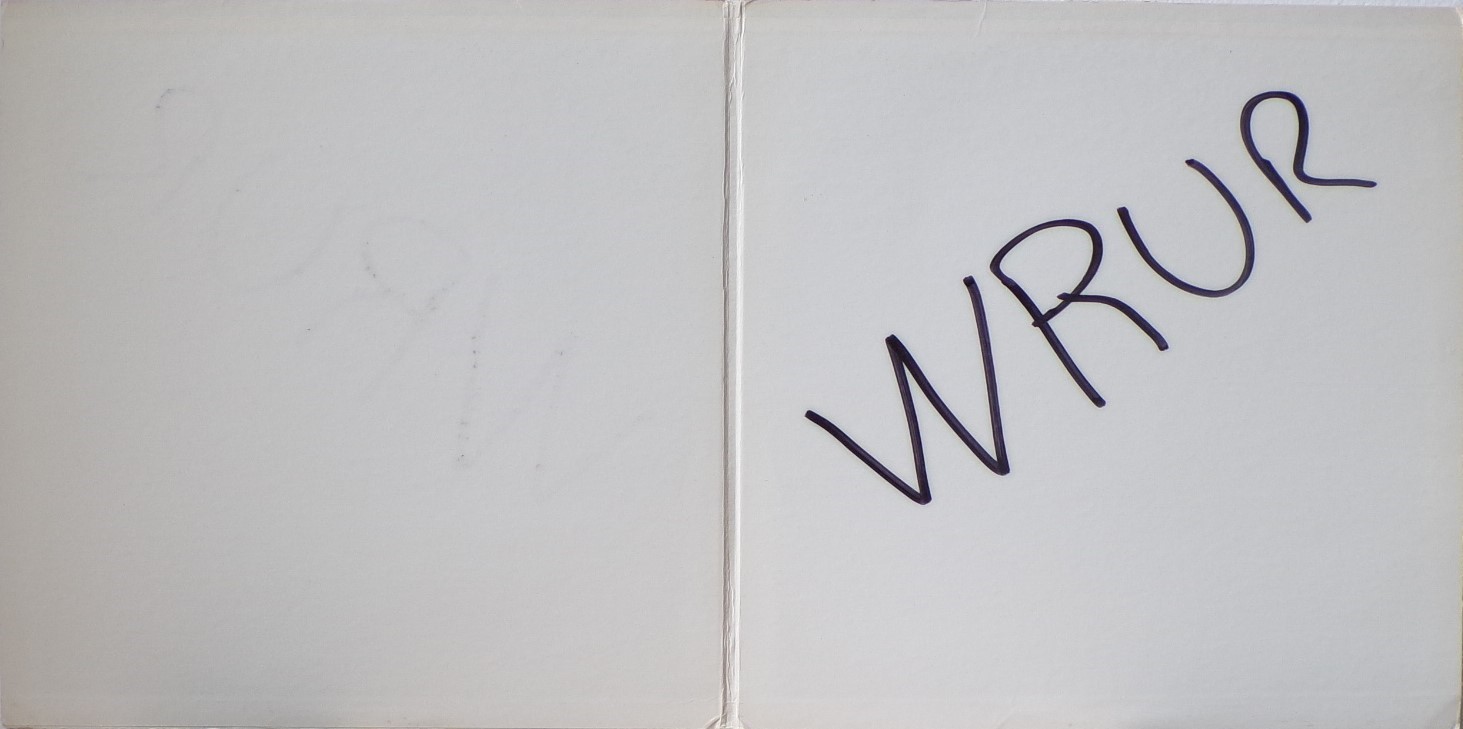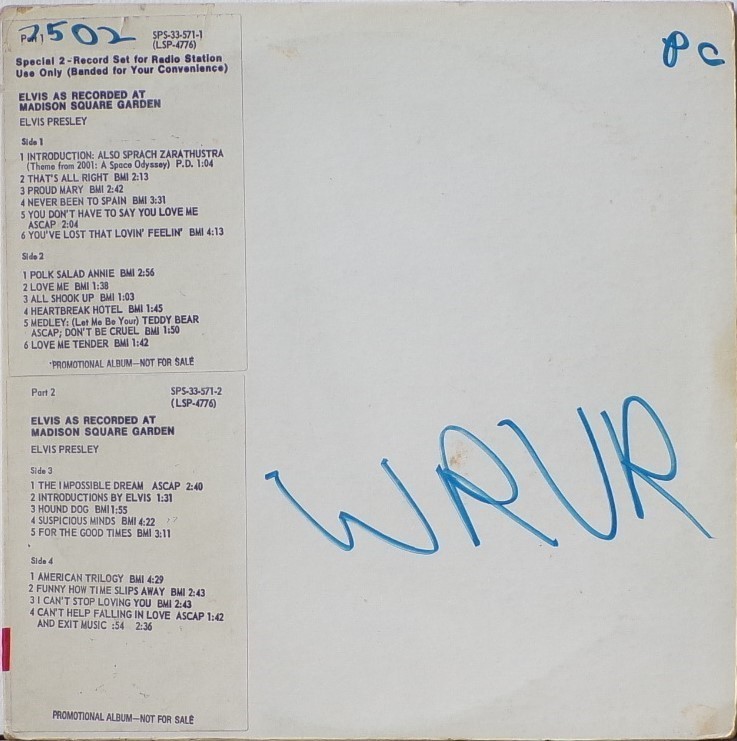 Details : Gatefold
Front Cover : Stickers with song titles. Promotional album Not For Sale. Radio Station WRUR in marker pen. Catalogue number top left.
​​Rear Cover : White with radio station WRUR in marker pen.
​Label : White. Dynaflex vinyl.
Side 1 : Stereo on top.
Side 2 : ​Stereo on top.
​Side 3 : Stereo on top.
Side 4 : Stereo on top.
​​​Pressing Plant : Indianapolis
​​​Matrix Number Side 1 : BNRS - 6351 - 1S A1 (Machine Stamped)
Matrix Number Side 2 : BNRS - 6352 - 1S A1 (Machine Stamped)
​Matrix Number Side 3 : BNRS - 6353 - 1S A1 (Machine Stamped)
Matrix Number Side 4 : BNRS - 6354 - 1S (Machine Stamped)
*NOTE* 2 Record Set. Promotional Album. Not For Sale. This was a special 2 - record set for Radio Station use only. This was a "Banded" version for the radio stations. Issued in a gatefold white sleeve with only 2 stickers on the front showing the song titles and that it was a promotional copy. White labels with "Not For Sale" on them.