Album Title : 24 Karat Hits !
Catalogue Number : LPZ - 2040
Year Release : 30th September 1997
Side 1 Disc 1 : Heartbreak Hotel - Love Me - Don't Be Cruel - Hound Dog - Love Me Tender - All Shook Up
Side 2 Disc 1 : (Let Me Be Your) Teddy Bear - Jailhouse Rock - Wear My Ring Around Your Neck - A Big Hunk O' Love -Stuck On You - It's Now or Never
Side 1 Disc 2 : Are You Lonesome Tonight - Surrender - (Marie's The Name) His Latest Flame - Little Sister - Can't Help Falling In Love - Good Luck Charm
Side 2 Disc 2 : She's Not You - Return To Sender - (You're The) Devil In Disguise - Crying In The Chapel - In The Ghetto - Suspicious Minds
Brief History :
Had Elvis Presley done nothing else but record "That's Alright, Mama," his place in pop music history would be secure. With his first regional hit, Presley fused rhythm and blues with country, put a handsome white face out front for audiences to see, and in so doing legitimized beat music for white audiences. It is no understatement to call Presley the chief catalyst of the rock-and-roll era. During the 1950s, Presley's records spent a collective 53 weeks in the number one chart position. Only the Beatles can boast similar sales success.
Presley's monumental accomplishments continued until his untimely death in 1977. After a stint in the Army, he spent a decade making profitable but forgettable movies. Then in 1968 he re-established his artistic relevance with a spectacular television special and several great albums. During the last decade of his career, Presley's live show was the hottest ticket in America. A great singer first and last, Presley was equally adept at raunchy blues, lilting boogie, operatic pop, and country tear-jerkers.
'Elvis 24 Karat Hits!' carries the Living Stereo banner atop its cover, but was not an original RCA release. It is, instead, a best-of compilation of RCA hits which span Presley's full RCA discography from Heartbreak Hotel to Suspicious Minds . This LP boasts an "all vacuum tube cutting system." Of the twenty-four cuts on the release, nine are in glorious original monophonic sound. Superb liner notes by Presley recording engineer Bill Porter round out the package. DCC really deserves kudos; this is one of the best-done 'best of' packages I have ever seen! From the album art to the pressing quality, there is no doubt this is a class act. With new vinyl like this available I am at no loss to spend my music budget and then some every chance I get.
When I say you have heard this music before believe it. Contained in the grooves of this album are some of the best rock and roll cuts recorded in the last fifty years. Influential, fun and pioneering, this music will thrill you with its life. A stunner if your only exposure to Elvis has been the radio and (mostly disappointing) movie soundtracks, if you have heard the king's recordings on a fine system before, prepare to be impressed. Compared to my collection of originals and reissues, this LP offers outstanding playing surfaces, detailed and honest transcriptions of the master tapes, and first-rate sound quality. This is, without doubt, the Elvis album to own if you are only going to own just one.
The collection starts with the seminal Heartbreak Hotel . This cuts swings in the true sense of the word with bedrock bass performance from DJ Fontana, a thrilling exchange between Floyd Cramer on piano and Scotty Moore on lead guitar, and of course the utterly unique vocal styling of the king. Comparing the DCC vinyl played on my long-in-the-tooth Linn LP12 to my RCA compact disc issue of 'The Top Ten Hits' (RCA 6383-2) played through the truly state-of-the-art Levinson No. 39 compact disc processor reveals the RCA compact disc to sound flat, lifeless, compressed and dull. Keep in mind this is a mono cut that is well over 40 years old - clearly there is quite a bit more on the master tapes than we have been offered before!
Comparing this same cut to the RCA pressing of 'Elvis' Golden Records' (RCA AFM1-5196) 50 th Anniversary pressing (restored to original mono and digitally re-mastered no less!) shows the RCA vinyl to still better the RCA compact disc in every sonic attribute, but not to the same degree as the DCC vinyl. The only original copy I have of 'Elvis' Golden Records' is the "electronically reprocessed for stereo" release (LSP 1707e), and that recording is such a monstrosity that I bought the 'Top Ten Hits' compact disc just to be able to listen to this music without getting a headache! My wife put it best when she heard the DCC vinyl follow the RCA compact disc - she said the CD sounds like someone's car stereo as heard passing by, the DCC vinyl sounds like music. And what music it is…
Another example, perhaps a more fair comparison of original pressing vs. DCC reissue is the song Can't Help Falling In Love which originally appeared on the soundtrack of 'Blue Hawaii' (RCA LSP2426). My original early pressing is of very high quality vinyl with a quiet playing surface. On the original pressing this lovely ballad seems slightly more relaxed than the DCC. The DCC is far more dynamic. Elvis' voice is moved forward in the soundstage. The DCC pressing also has a bit more top-end, but I would be remiss to call it bright in any way. This is a close call and I am tempted to call the DCC the winner, but the original pressing has such seductive qualities that I think you can't go wrong with either. One big difference is that you will likely pay $50 or so the for RCA LSP in clean condition and you will only have a couple of great Elvis songs. On the DCC you get them all!
Almost everything you could want from Elvis is on these two LP's. From the early years and in mono we get Heartbreak Hotel , Love Me , Don't Be Cruel , Hound Dog , All Shook Up , Teddy Bear , Jailhouse Rock , Wear My Ring Around Your Neck , and A Big Hunk Of Love . Missing is I Want You, I Need You, I Love You and Anyway You Want Me . When you have limited recording time you have to make decisions! A real best of for Elvis would easily be a three or four album set.
In original stereo we get Love Me Tender , Stuck On You , It's Now or Never , Are You Lonesome Tonight? , Surrender , and nine others. The LP concludes with the hit Suspicious Minds , and it has never sounded better. Once again, comparisons with the RCA compact disc 'The Top Ten Hits' reveal the RCA compact disc to sound noticeably inferior, although not quite as startlingly so as the Heartbreak Hotel cut. The RCA compact disc is thinner in the bass - not as ripe- and massed strings sound like a synthesizer. The voices of Ginger and Mary Holliday, Jeannie Greene, Susan Plinkington and Donna Thatcher (who later went on to sing with the Grateful Dead!) singing backup seem more separated on the compact disc; and this is not a good thing. They should sound melded together. The soundstage on the compact disc is smaller and farther back from the plane of the speakers than the DCC vinyl, too.
I did compare several other cuts on the DCC compilation with their original RCA releases. I will spare you the details and simply say that I found that, for the most part, the DCC either equalled or surpassed any other pressings I could find. If you want the cream of Elvis' music without the exorbitant prices of "collector's records" the DCC is just what the doctor ordered. Once again, I have not heard the DCC compact disc version, but I have heard rumours that it is pretty good. If it is anywhere near the quality of the vinyl release then it stands as the definitive Elvis compilation on CD.If this review sounds like a rave, it is. I am very impressed with the pressing, the packaging and the sensitivity to the music that DCC has exhibited on these releases. Let's hope they keep these releases in print long enough that those of us with limited music budgets have time to save up and buy them. With Roy Orbison already on the way the only question I can ask is "What's next guys?"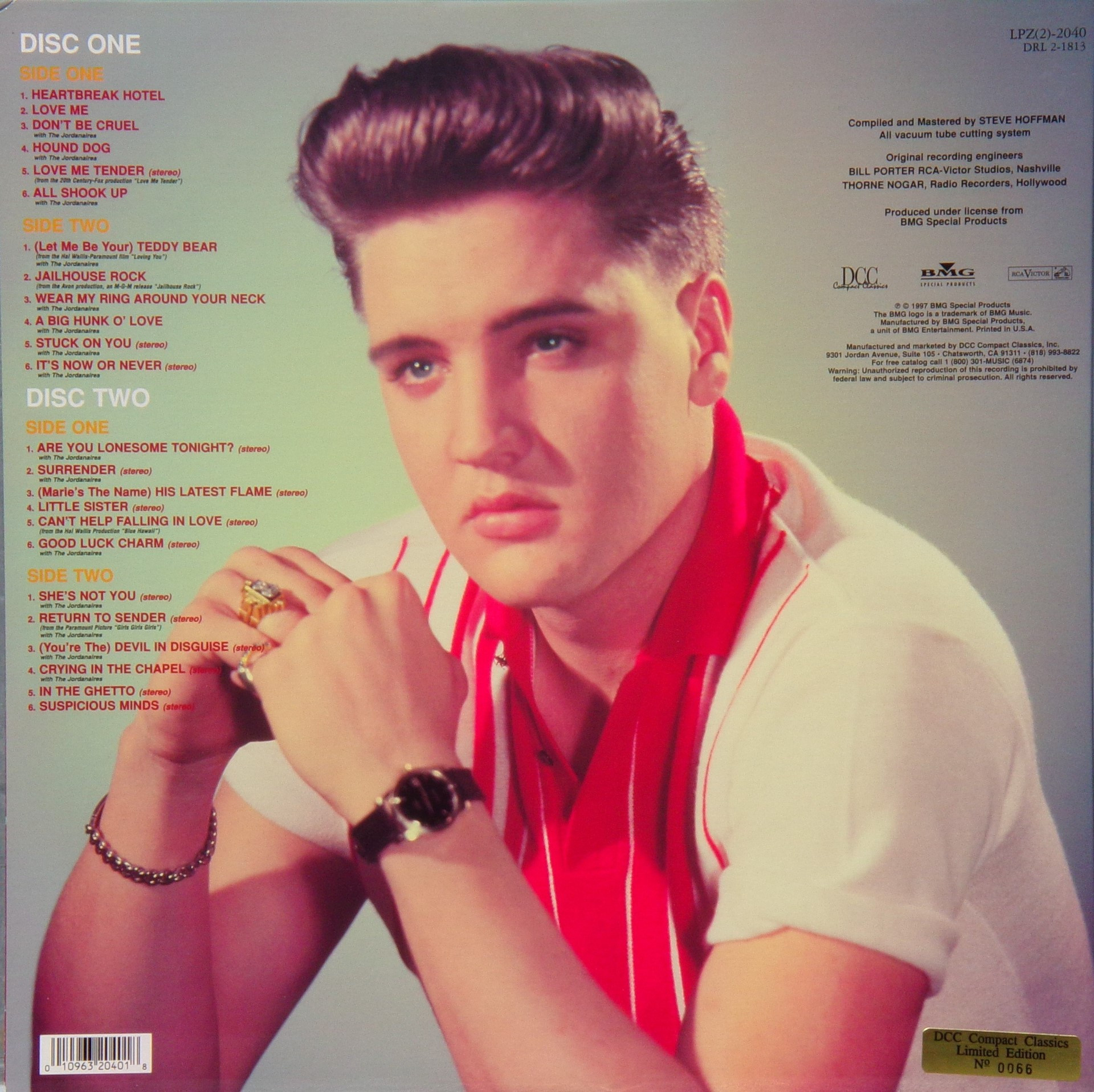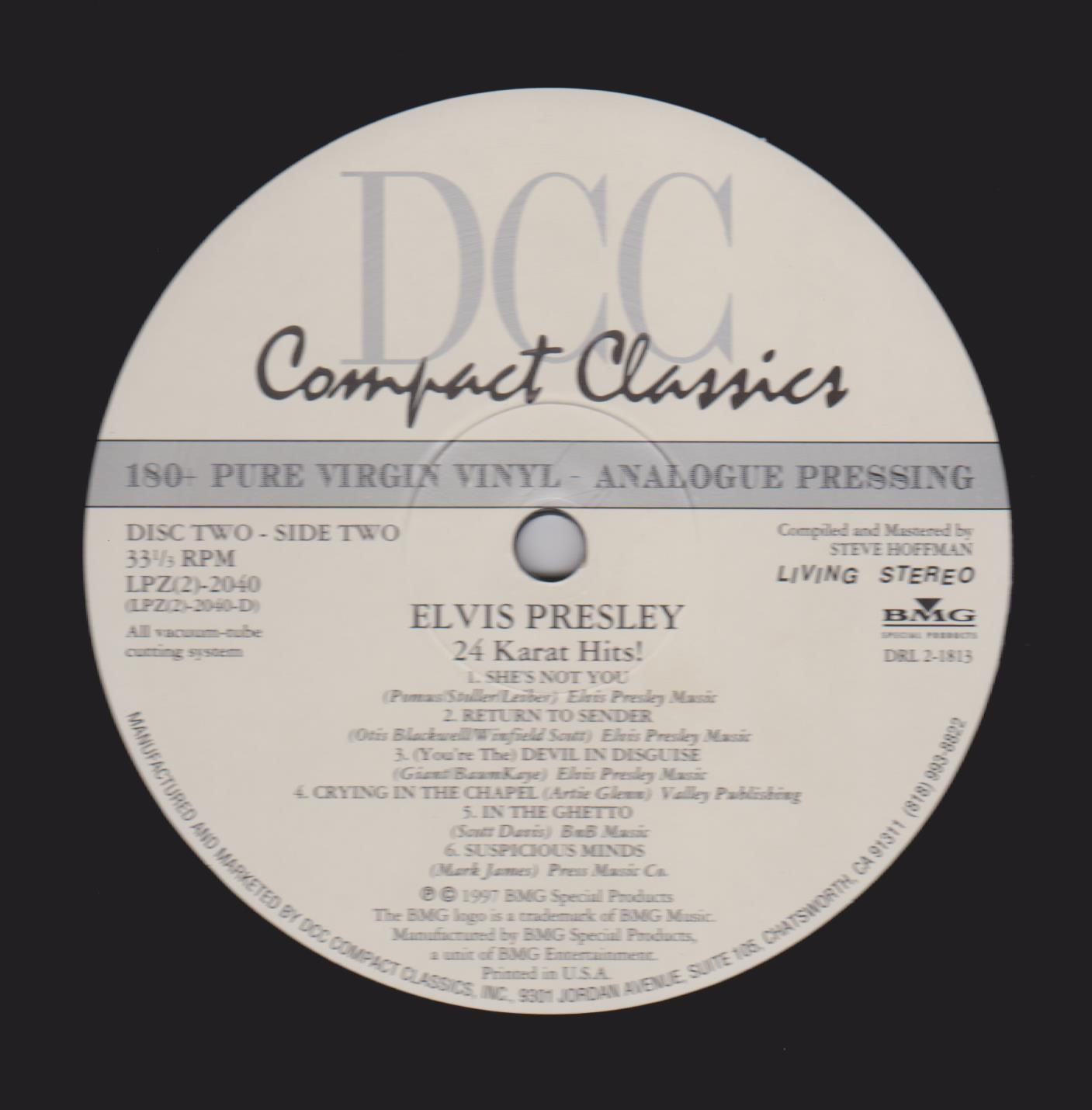 Details : Gatefold Release.
Front Cover : Elvis photo. Title to the left with song titles under it. Catalogue number top left.
Rear Cover : Photo of Elvis. Catalogue number top right. Printed in U.S,A. near top right side.
Label : White with DCC logo top of label.
Side 1 Disc 1 : 180+ Pure Virgin Vinyl Analogue Pressing in grey background.
Side 2 Disc 1 : 180+ Pure Virgin Vinyl Analogue Pressing in grey background.
Side 1 Disc 2 : 180+ Pure Virgin Vinyl Analogue Pressing in grey background.
Side 2 Disc 2 : 180+ Pure Virgin Vinyl Analogue Pressing in grey background.
Pressing Plant : Unknown.
Matrix Number Side 1 Disc 1 : LPZ - 2- 2040 - A - 2S Future Disc RC? SH/KPG (Hand Etched)
Matrix Number Side 2 Disc 1 : LPZ - 2 - 2040 - B - 2S Future Disc RC? SH/KPG (Hand Etched)
Matrix Number Side 1 Disc 2 : LPZ - 2 - 2040 - C - 2S Future Disc RC? KM? (Hand Etched)
Matrix Number Side 2 Disc 2 : LPZ - 2 - 2040 - D - 2S Future Disc RC? SH/KPG (hand Etched)
*NOTE* Front cover Hype Sticker. Rear cover gold sticker "Limited Edition N0 0066". First photo shows "Hype Sticker" on shrink , second photo is shrink removed to show no sticker on album cover.