Album Title : Elvis
Catalogue Number : LPM - 4088
Year Release : 22nd November 1968
Side 1 : Trouble - Guitar Man - Lawdy Miss Clawdy - Baby, What You Want Me To Do - Dialogue / Heartbreak Hotel - Hound Dog - All Shook Up - Can't Help Falling In Love - Jailhouse Rock - Love Me Tender
Side 2 : Where Could I Go But To The Lord - Up Above My Head - Saved - Dialogue / Blue Christmas - One Night - Memories - Nothingville - Dialogue / Big Boss Man - Guitar Man - Little Egypt - Trouble - Guitar Man - If I Can Dream
Brief History :
Elvis (NBC TV Special) is the thirty-fourth album by Elvis Presley, released on RCA Victor Records in mono, LPM 4088, in November 1968. Recording sessions took place in Burbank, California at Western Recorders on June 20, 21, 22 and 23, 1968, and at NBC Studios on June 27 and 29, 1968. It peaked at #8 on the Billboard 200. It was certified Gold on July 22, 1969 and Platinum on July 15, 1999 by the RIAA.
Prior to the videotaping of the Singer Christmas Special, a soundtrack album to be released before the December 3 broadcast was recorded. Several initial contract stipulations were obviated by Presley and program producer Steve Binder, notably the one against having a live audience present, but album producer Bones Howe was unable to requisition proper recording equipment, getting the sound feed from the single-channel microphones on the video cameras. Hence, the album was released in mono only, at a time when the recording industry was switching over to stereophonic records exclusively for both albums and singles. It is hard to know if the "Mono" story is true however since every issue if this album clearly states on the labels and back cover, "recorded in stereo", and at the same time, in large letters the word "MONO" is listed on every issue of both sides of the record label.
Unlike the drudgery of the feature film soundtrack recordings, Presley was genuinely excited by the project. For the album, the musical format presented Presley in three different settings: production numbers featuring medleys of his material; an informal small band featuring medleys in front of a live audience; and the two original numbers with Presley backed by an orchestra in front of a live audience. The two ballad tracks from this album were issued as singles. "If I Can Dream" being released earlier in the month, backed on the B-side with a song from his movie in theaters at the time, Live a Little, Love a Little, making it a double promotion on one record. It peaked at #12 on the Billboard Hot 100, his highest charting single since 1965. "Memories" was released over two months after the broadcast, backed with the title song to his next film, Charro!. By making it to the top ten on the album chart after his previous album had charted at a dismal #82, this LP resuscitated his recording career at a time when it seemed practically moribund.
Several hours of additional music were recorded for the special, and this material has been reissued in many different formats over the years.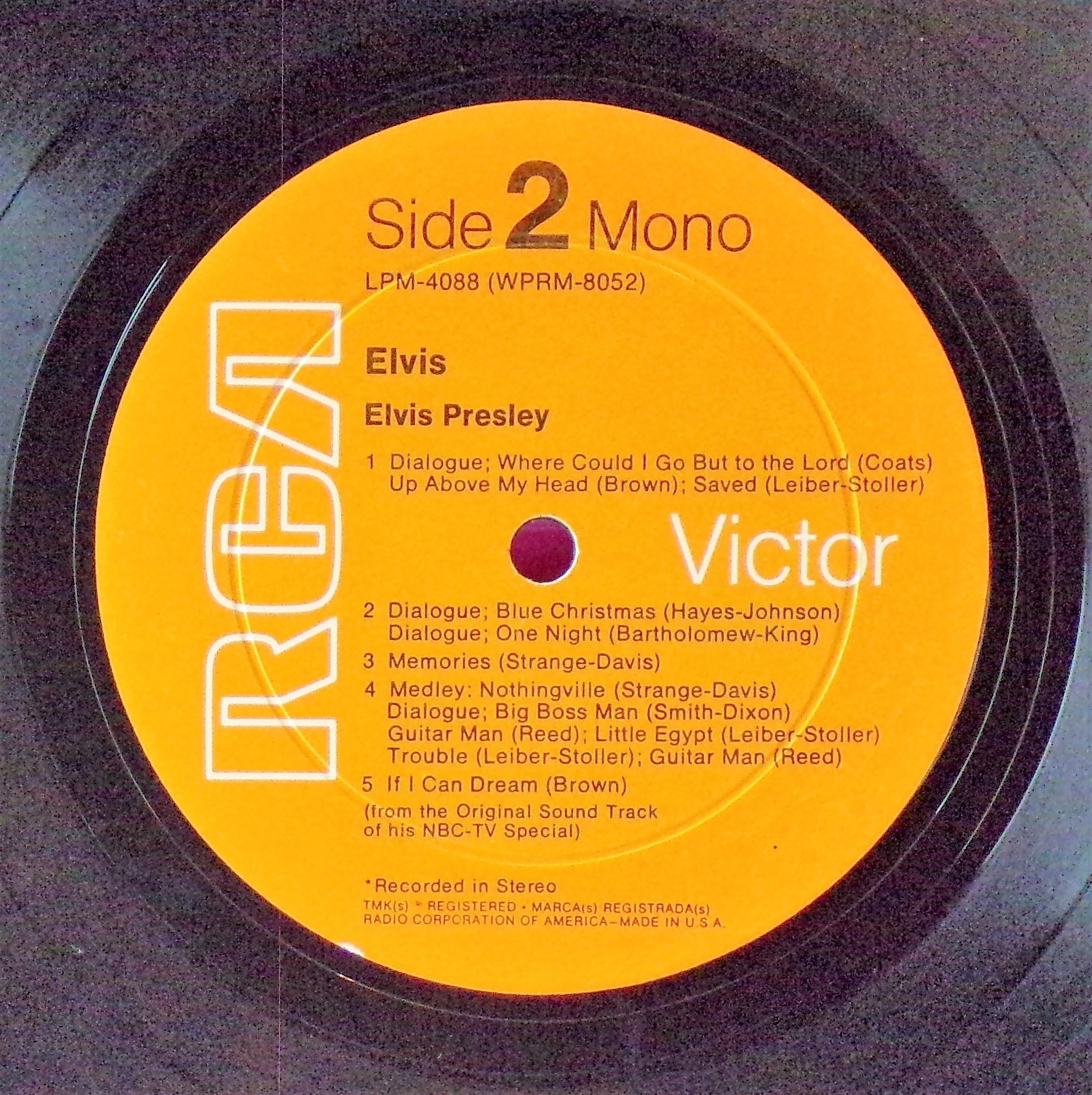 Details :
Front Cover : Photo of Elvis. Catalogue number top left.
Rear Cover : 6 Photos of Elvis. Catalogue number top right LPM 4088. Printed in U.S.A. bottom centre.
Label : Orange. Rigid vinyl.
Side 1 : Mono top of label.
Side 2 : Mono top of label.
Pressing Plant : Rockaway
Matrix Number Side 1 : WPRM - 8051 - 5S (Machine Stamped) A1 (Hand Etched)
Matrix Number Side 2 : WPRM - 8052 (the 2 is hand etched) - 5S (Machine Stamped) A1 (Hand Etched)
*NOTE* This is the first Elvis Presley LP with an orange label.
Details : 1977 Release
Front Cover : Photo of Elvis. Catalogue number top left.
Rear Cover : 6 Photos of Elvis. Catalogue number top right LPM 4088. Printed in U.S.A. bottom centre.
Label : Black dog near top. Flexible vinyl.
Side A : RCA top of label.
Side B : RCA top of label.
Pressing Plant : Rockaway
Matrix Number Side 1 : WPRM - 8051 - 13S A1 (Machine Stamped) Q (Hand Etched)
Matrix Number Side 2 : WPRM - 8052 - 9S A4 (Machine Stamped) C (Hand Etched)
*NOTE*