Album Title : His Songs Of Faith And Inspiration
Catalogue Number : DVL2 - 0728
Year Release : February 1986
Record One Side A : How Great Thou Art - Stand By Me - Joshua Fit The Battle - So High - In My Father's House (Are Many Mansions) - He Touched Me - I've Got Confidence - It Is No Secret (What God Can Do) - He Is My Everything
Record One Side B : Working On The Building - In The Garden - We Call On Him - His Hand In Mine - By And By - Farther Along - Known Only To Him - I Believe In The Man In The Sky - You'll Never Walk Alone (From Carousel")
Record Two Side C : An Evening Prayer - Mansion Over The Hilltop - Milky White Way - Reach Out To Jesus - Who Am I? - Take My Hand, Precious Lord - I'm Gonna Walk Dem Golden Stairs - If The Lord Wasn't Walking By My Side - (There'll Be) Peace In The Valley
Record Two Side D : Crying In The Chapel - Where No One Stands Alone - He Knows Just What I Need - Bosom Of Abraham - Where Could I Go But To The Lord - Without Him - Swing Down Sweet Chariot - Amazing Grace - If We Never Meet Again
Brief History :
This album set was only available through an RCA television mail order ad. It was available for approximately 3 months and then deleted. This 2 record set contains 36 of Elvis' most beloved gospel songs.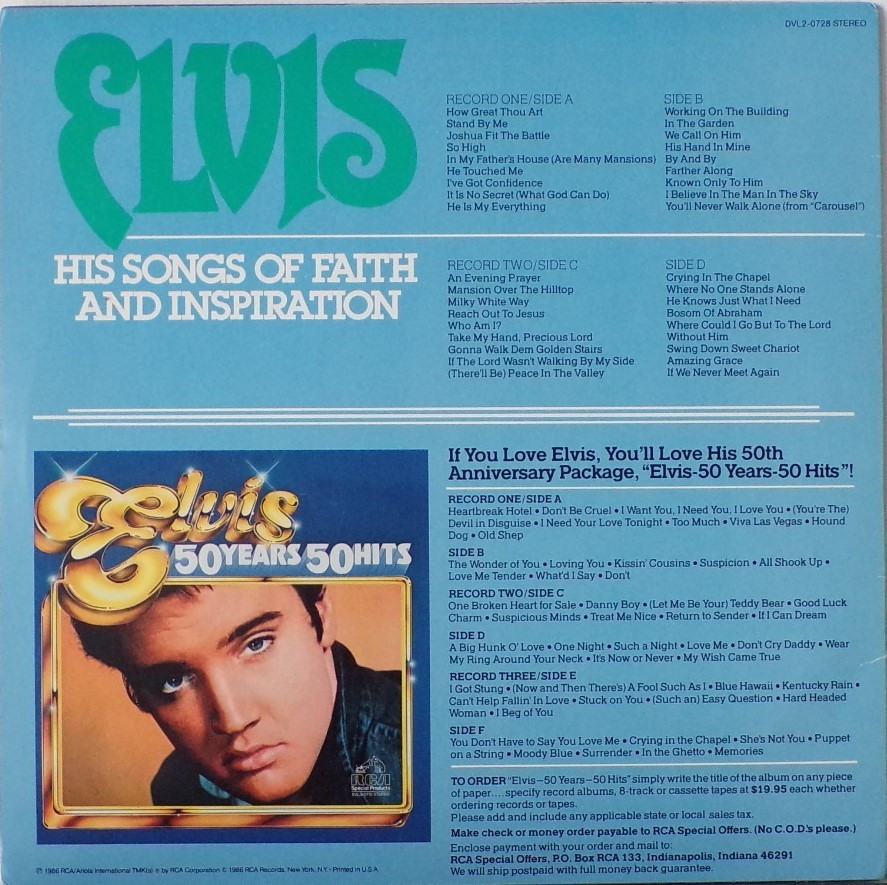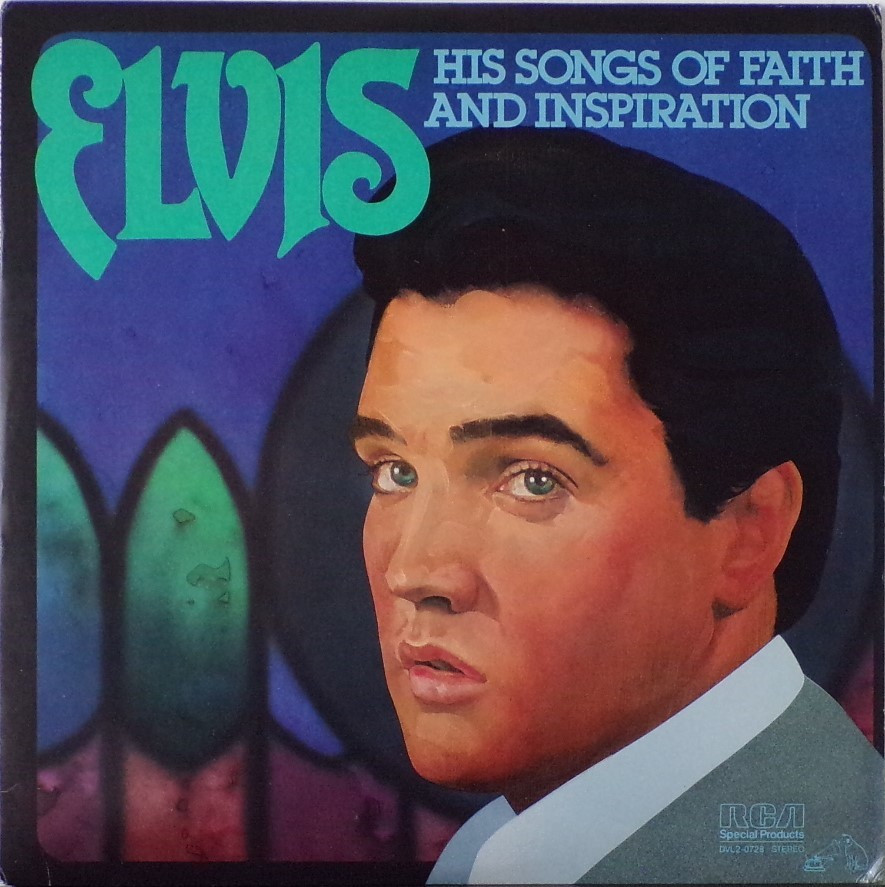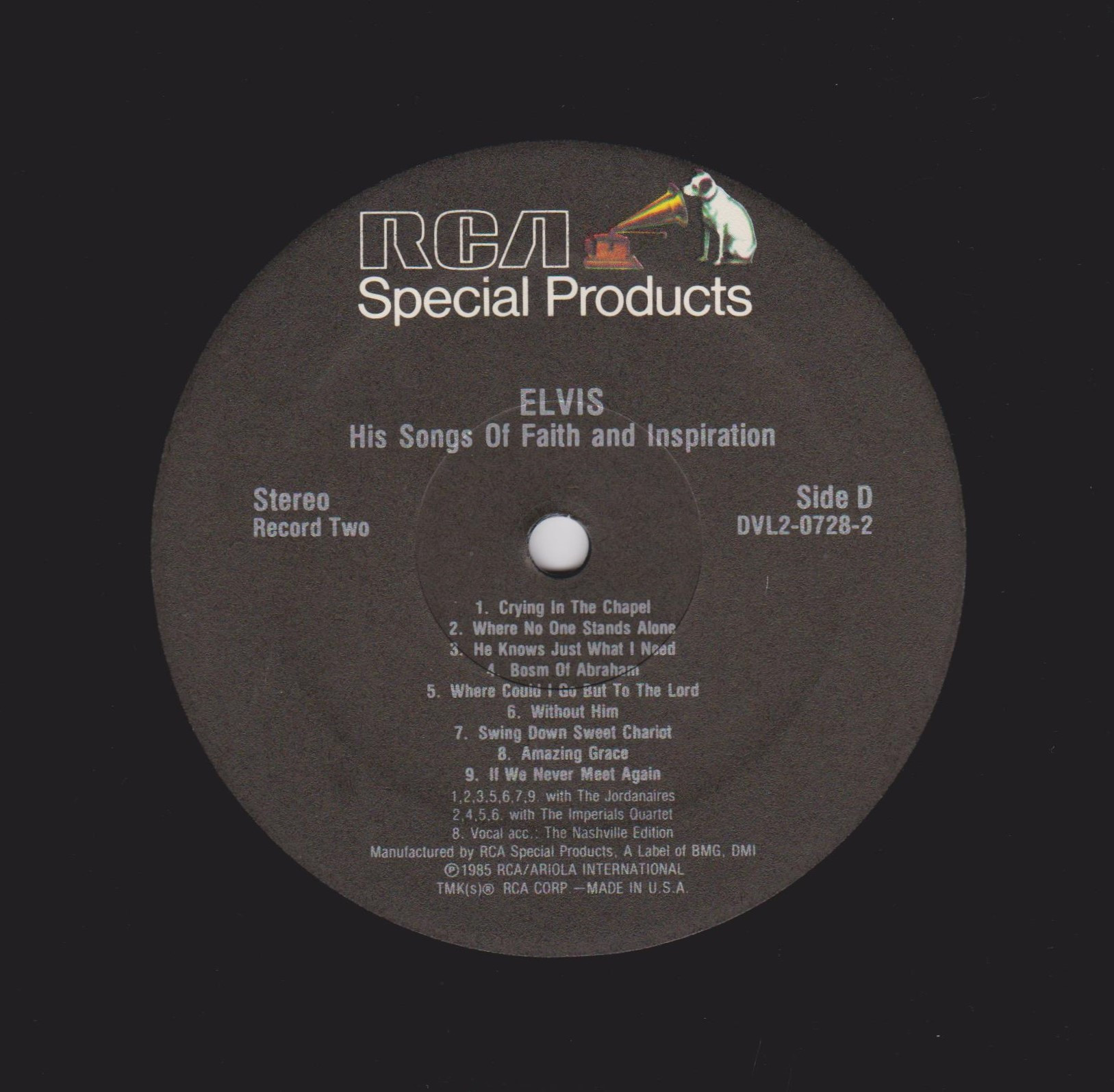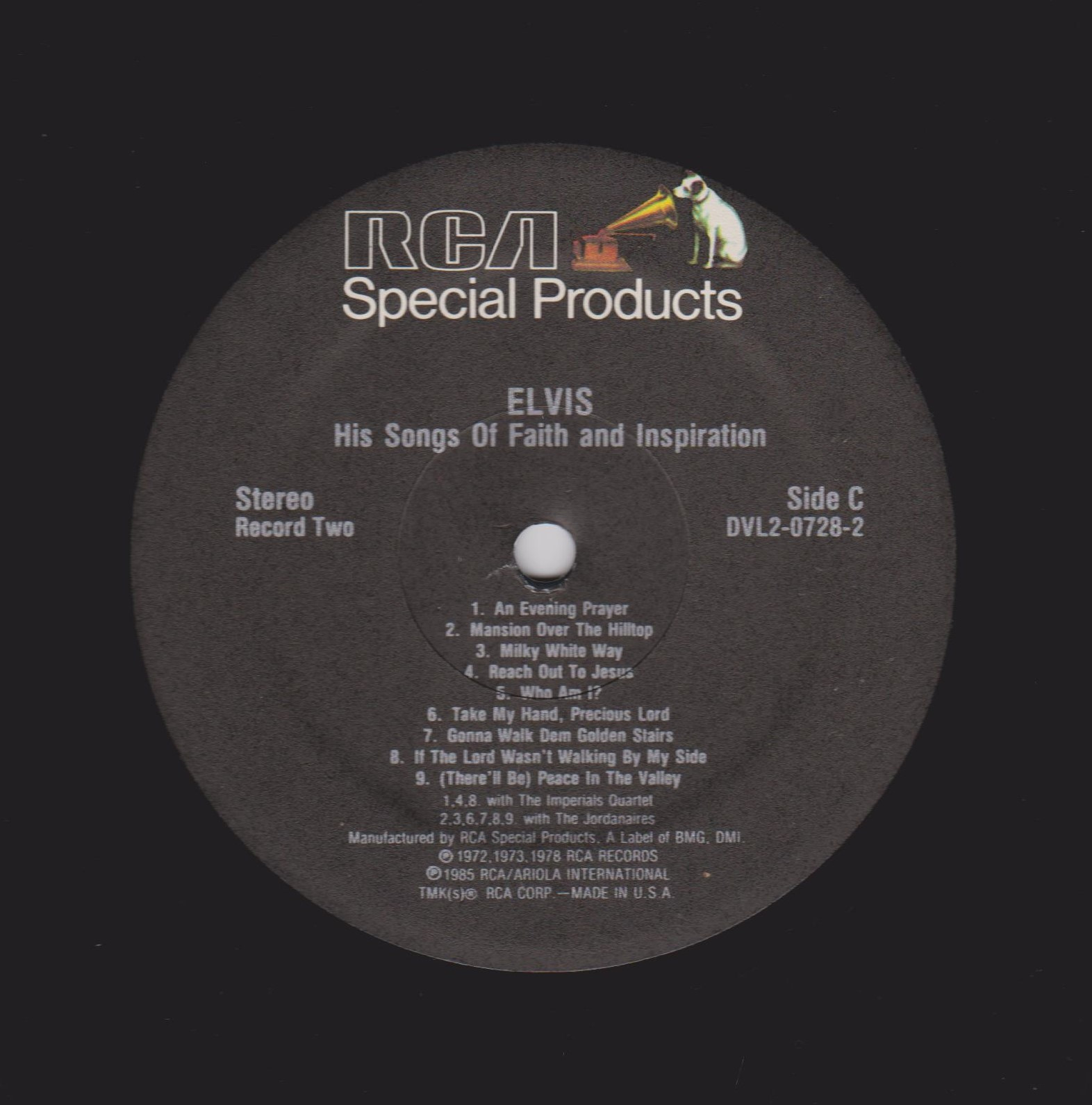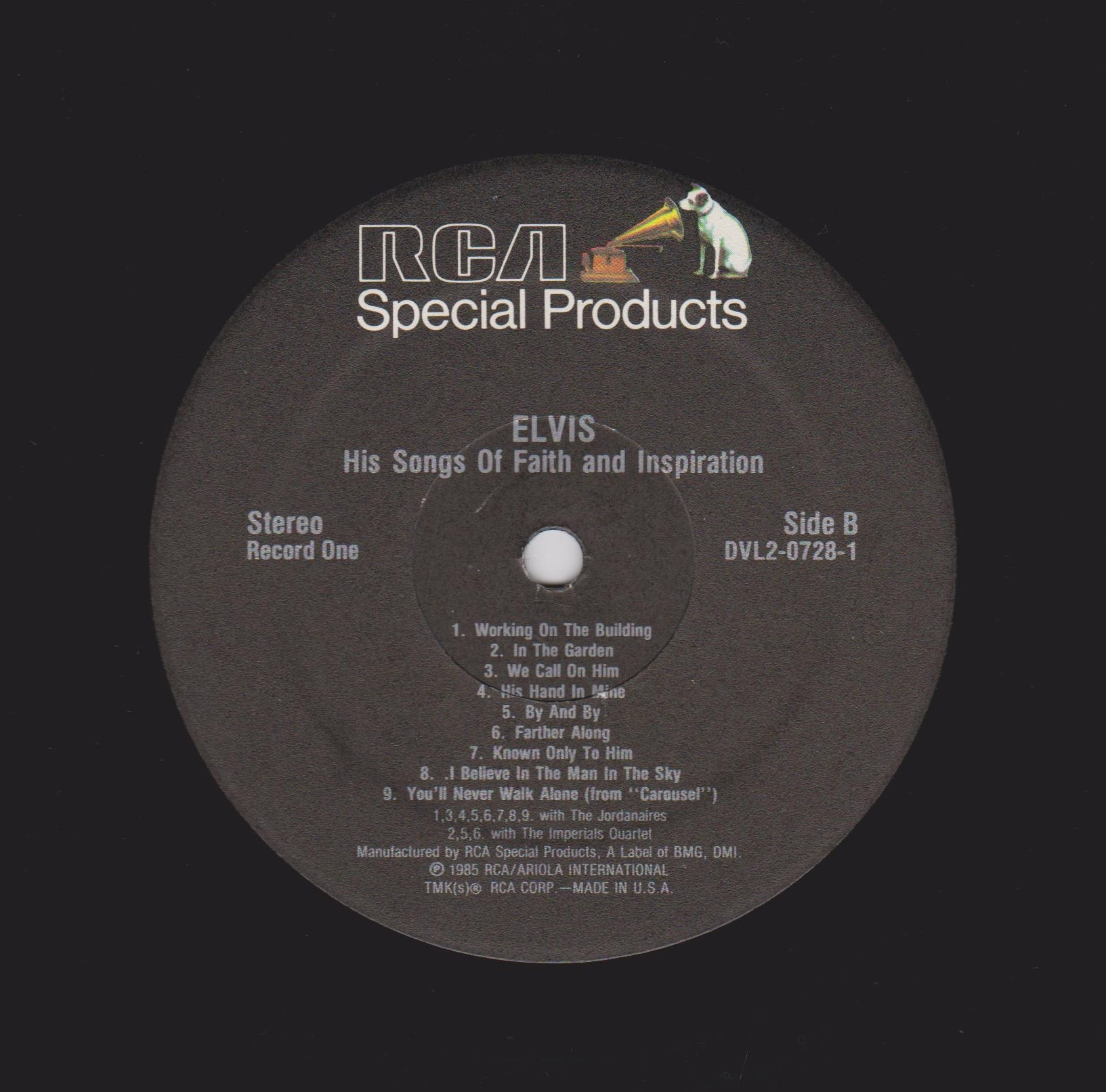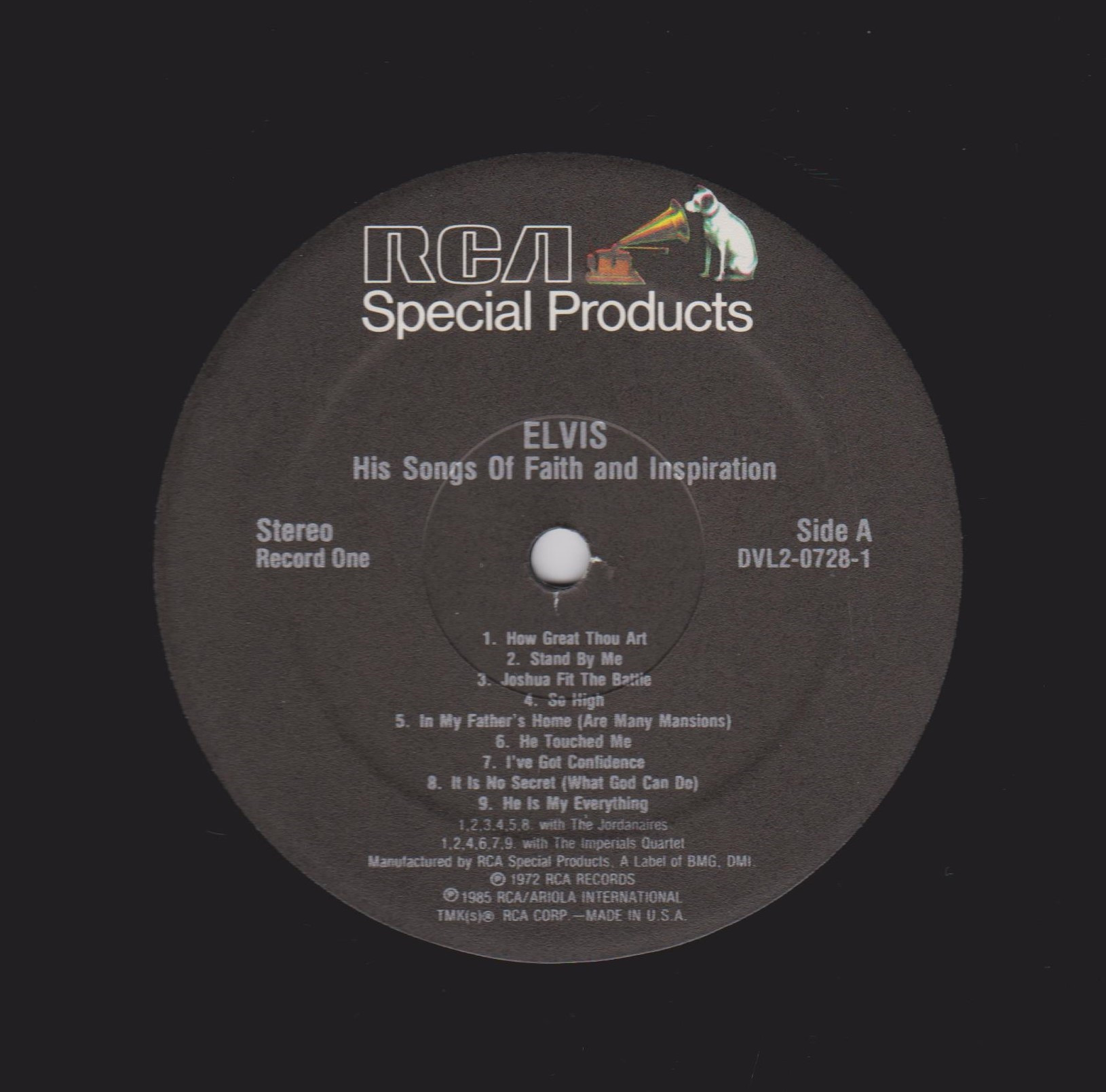 Details : 1986 Release
Front Cover : Photo of Elvis. Title top. Catalogue bottom right.
Rear Cover : Advert for Elvis 50 Years 50 Hits. Title to upper left. Catalogue number top right. Printed in U.S.A. bottom left.
Label : Black dog near top.
Side A through to Side D RCA Special Products logo at top.
Pressing Plant : Indianapolis
Matrix Number Side A : DVL2 - 0728 A3 #08626 (Hand Etched)
Matrix Number Side B : DVL2 - 0728 B8 #08626X (Hand Etched)
Matrix Number Side C : DVL2 - 0728 8C - 1 #08682 (Hand Etched)
Matrix Number Side D : DVL2 - 0728 D2 #08626X (Hand Etched)
*NOTE* 2 LP set in one sleeve. "Elvis His Songs Of Faith And Inspiration" printed on each label below Special Products.