Album Title : Separate Ways
Catalogue Number : CAS - 2611
Year Release : 01st December 1972
Side 1 : Separate Ways - Sentimental Me - In My Way - I Met Her Today - What Now What Next Where To
Side 2 : Always On My Mind - I Slipped I Stumbled I Fell - Is It So Strange - Forget Me Never - Old Shep
Brief History :
Separate Ways is a compilation album by Elvis Presley from 1972. Released by RCA Records under its RCA-Camden subsidiary exactly one month after another compilation, Burning Love and Hits from His Movies, Volume 2, Separate Ways was the second and final attempt by RCA to repackage older Elvis recordings by pairing them with a recent hit single, in this case "Separate Ways" and its flipside "Always On My Mind". The remainder of the album -- which was not promoted as a compilation on the front cover -- consisted of a mixture of previously released recordings from Presley film soundtracks of the 1960s, plus one song, "Old Shep", dating back to 1956. The album was reissued by Pickwick/Camden utilizing the original catalogue number CAS-2611. The only apparent difference is the cover indicates Pickwick at the bottom center front, where as the original issue indicated RCA. The contents of the re-issue are exactly the same as the original issue.
It just missed the top 10 of the Billboard charts on its release and has since gone on to sell over 3 million copies world-wide. It was certified Gold on 3/27/1992 and Platinum on 1/6/2004 by the RIAA.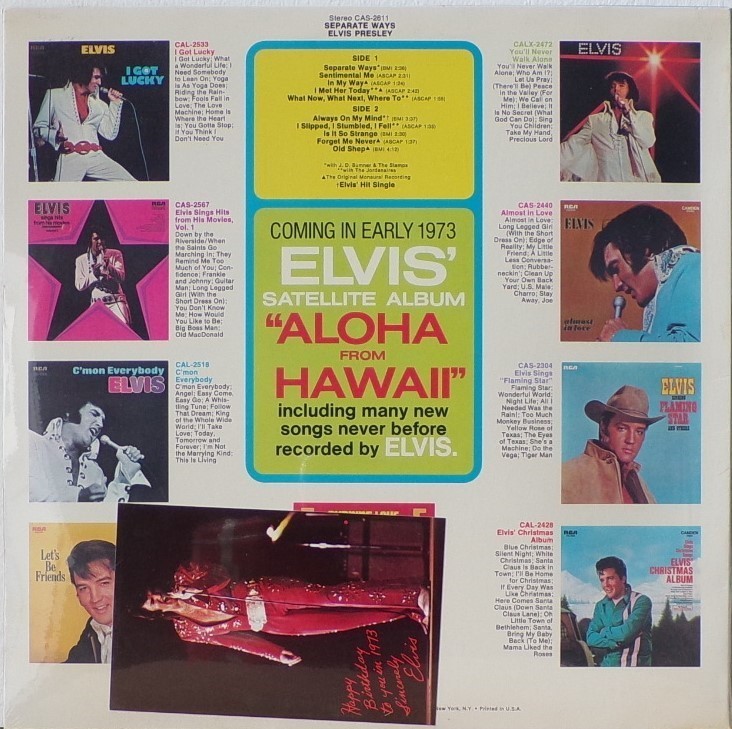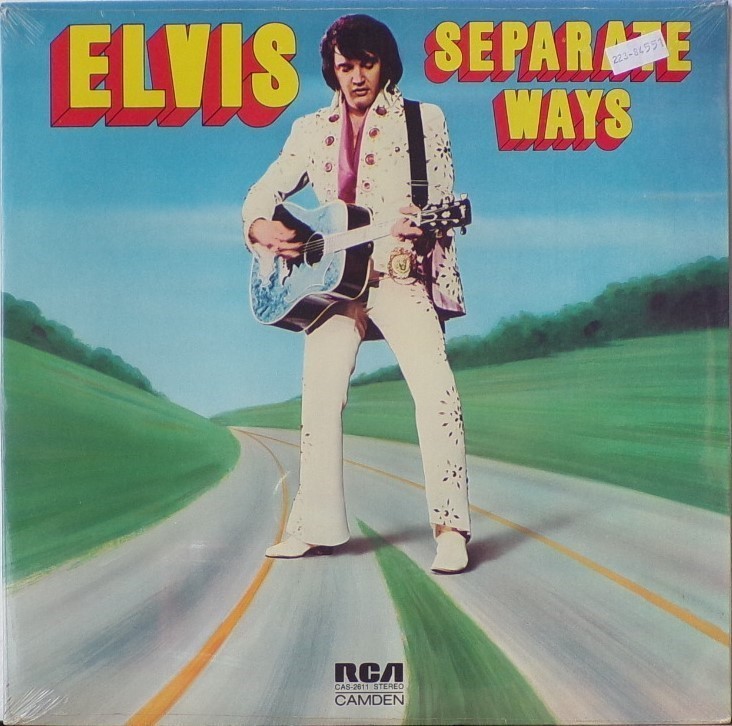 Details​​​ :
Front Cover : Photo of Elvis. Title top right. Catalogue number bottom centre. Camden bottom centre.
​​Rear Cover : Advertising 9 Elvis budget albums. Catalogue number top centre. Printed in U.S.A. bottom.
Label : Blue. Dynaflex.
Side 1 : Stereo at top.
Side 2 : ​Stereo at top.
​Pressing Plant : Unknown
​​Matrix Number Side 1 : Unknown
Matrix Number Side 2 : Unknown ​
*NOTE* 5 1/2 inch x 3 1/2 inch postcard issued with this release. This copy is sealed & you can see the postcard enclosed at the bottom of the rear cover.