Album Title : 2nd To None
Catalogue Number : 8 - 28765 – 11081 - 5
Year Release : 07th October 2003
Side A : That's All Right - I Forgot To Remember To Forget - Blue Suede Shoes - I Want You, I Need You, I Love You - Love Me - Mean Woman Blues - Loving You - Treat Me Nice - Wear My Ring Around Your Neck
Side B : King Creole - Trouble - I Got Stung - I Need Your Love Tonight - A Mess Of Blues - I Feel So Bad - Little Sister - Rock-A-Hula Baby
Side C : Bossa Nova Baby - Viva Las Vegas - If I Can Dream - Memories - Don't Cry Daddy - Kentucky Rain - You Don't Have To Say You Love Me
Side D : An American Trilogy - Always On My Mind - Promised Land - Moody Blue - (Bonus Track) I'm A Roustabout (Previously Unreleased) - (Bonus Track) Rubberneckin' (Paul Oakenfold Remix - Radio Edit)
Brief History :
2nd to None is the sequel to 2002's 30 #1 Hits, itself an attempt to gather Elvis' biggest number one hits on one disc -- which is quite a bit different than all of his number one hits. Elvis simply had too many chart-toppers to fit on one disc, particularly because their definition of "number one hit" was all-inclusive, spanning the globe and Billboard alike, so there were a lot of really good number one hits left behind, not to mention all the great singles -- including all of his Sun rockabilly sides -- that didn't climb their way to number one. So, it was hardly a complete collection, thereby making a companion volume like 2nd to None welcome. The only problem is, what is the criteria for this collection? Is it the number one hits that didn't make it to 30 #1 Hits? The singles that made it to number two? Other Top Ten hits? Or album tracks? All are reasonable approaches to a collection, but what the compilers have done with 2nd to None is borrow a little bit from all these approaches, winding up with a reasonably enjoyable hodgepodge of hits and anthems from his entire career. Again, the attempt to present number one hits from all countries and all charts creates more problems than it solves, raising questions like why is the lousy kitsch artifact "Rock-A-Hula Baby" here instead of better singles from either earlier or later in his career? The answer? It reached number one in the U.K. Similarly, the Sun-era "I Forgot to Remember to Forget" is here instead of "Good Rocking Tonight" or "Baby Let's Play House" because it hit number one on the country charts. When the chart positions buried in the liner notes are examined, some of the questions are answered, but not all -- if this is truly supposed to be a companion introduction, showcasing Elvis at his best throughout his career, why do the compilers favor schlock to rock, choosing songs like "If I Can Dream" and "Memories," which are neither big hits nor emblematic? This instinct that pulls 2nd to None toward the middle of the road is puzzling and mildly irksome, resulting in an uneven collection, but at 30 tracks it can be easy to forgive the missteps, since much of the record consists of music that is nothing less than terrific. Also included are two "bonus tracks" -- a previously unreleased "I'm a Roustabout," which is fine but not remarkable, and Paul Oakenfold's clubtastic remix of "Rubberneckin'," an attempt to re-create the excitement of JXL's 2002 hit remix of "A Little Less Conversation" that only points out how good the previous hit was. (Side note: how are these two songs "bonus tracks" if 2nd to None has only been issued with this track listing?) It can be easy to forgive the missteps, since much of the record consists of music that is nothing less than terrific. Nevertheless, no matter how much good music both this and 30 #1 Hits offer, it's hard not to think that the execution on them could have been much better.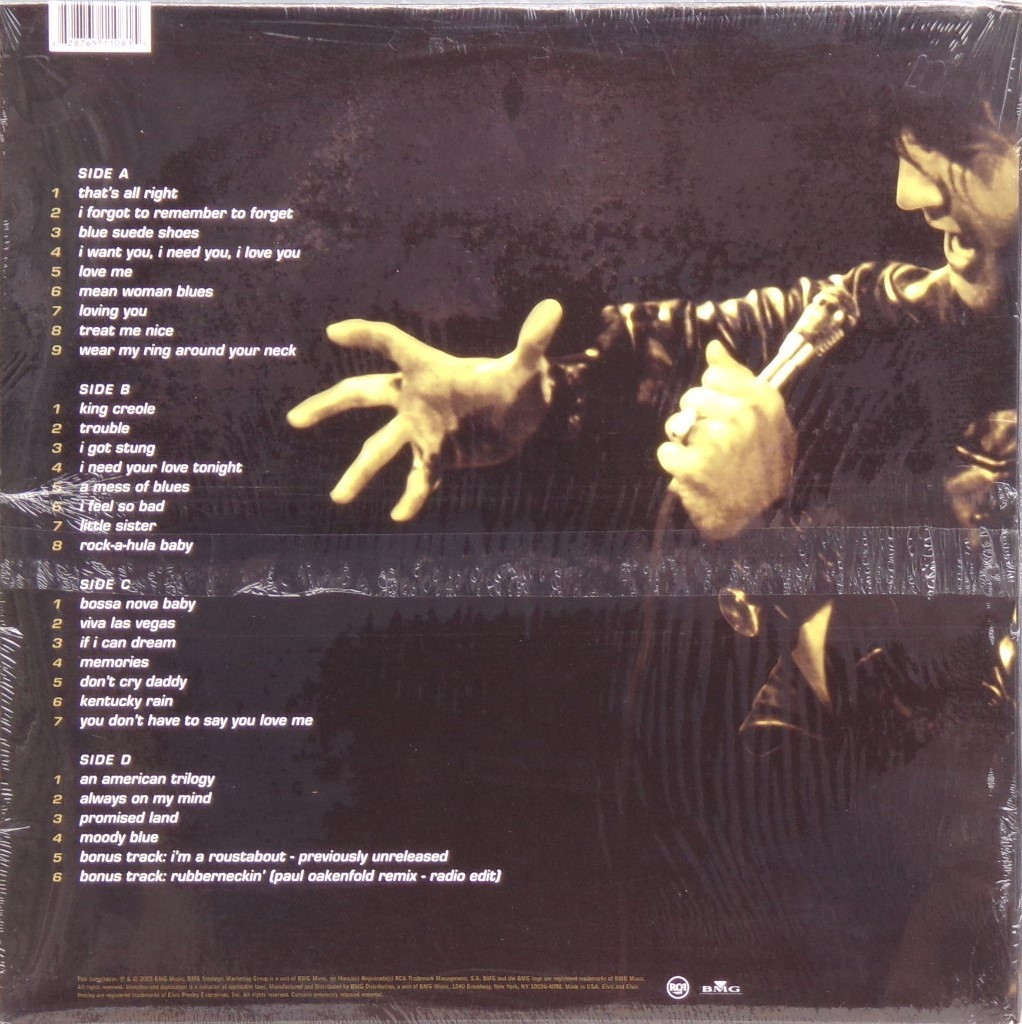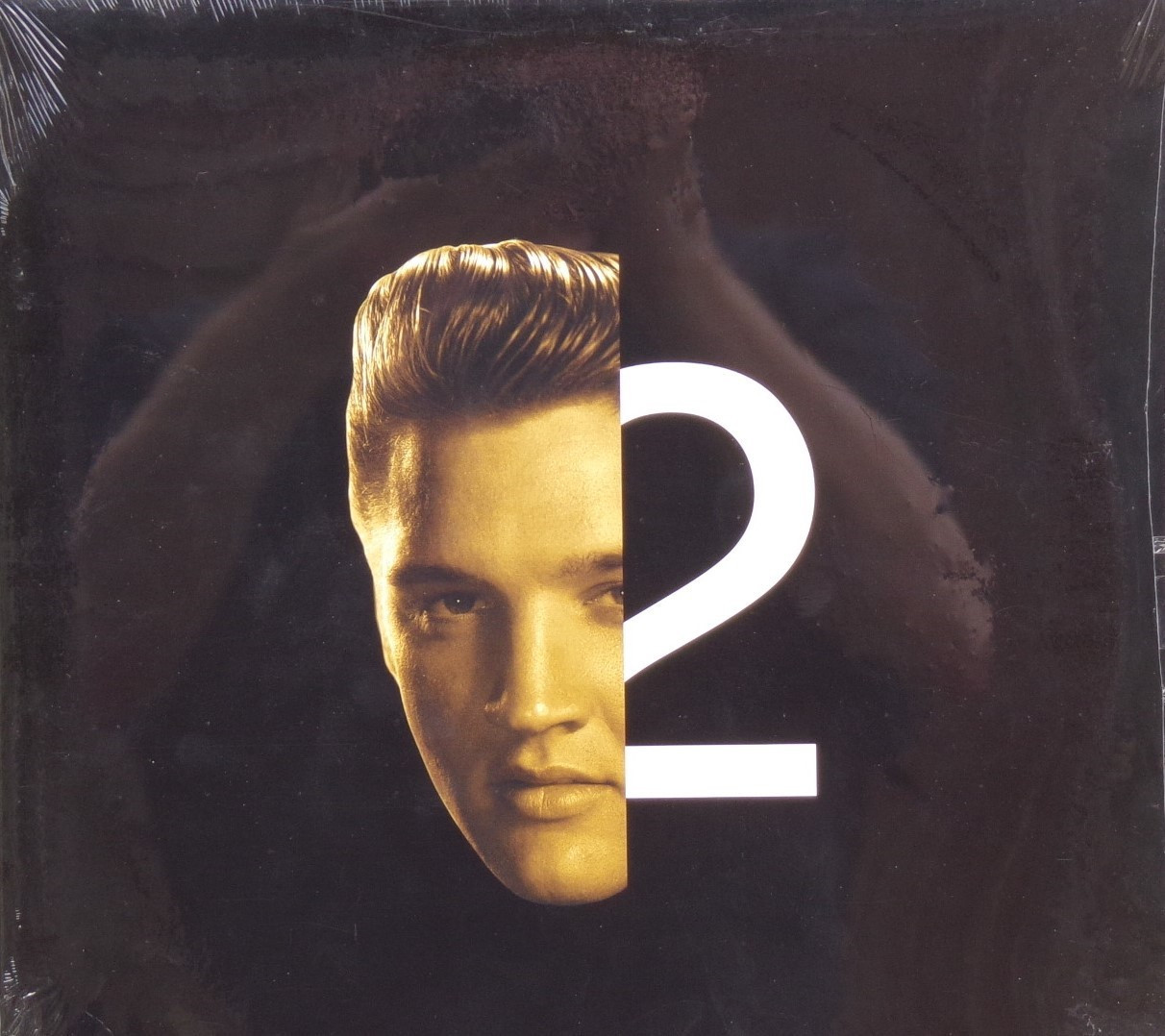 Details : Gatefold 2003 Release
Front Cover : Photo of Elvis.
Rear Cover : Photo of Elvis. Catalogue number top left. Printed in USA bottom centre.
Label : Unknown.
Side A : Unknown
Side B : Unknown
Side C : Unknown
Side D : Unknown
Pressing Plant : Unknown
Matrix Number Side A : Unknown
Matrix Number Side B : Unknown
Matrix Number Side C : Unknown
Matrix Number Side D : Unknown
*NOTE* 2 LP set. This copy is sealed.