Album Title : Elvis The Alternate Aloha
Catalogue Number : 6985 - 1 - R
Year Release : 20th June 1988
Side One : Also Sprach Zarathustra - See See Rider - Burning Love - Something - You Gave Me A Mountain - Steamroller Blues - My Way - Love Me - It's Over - Blue Suede Shoes - I'm So Lonesome I Could Cry
Side Two : What Now My Love - Fever - Welcome To My World - Suspicious Minds - I'll Remember You - An American Trilogy - Big Hunk O' Love - Can't Help Falling In Love - Blue Hawaii
Brief History :
On January 14, 1973, Elvis Presley performed a concert at the Honolulu International Centre Arena that was broadcast live on television in Europe and the Far East and taped for American broadcast on April 4. It produced a double-LP live album, Aloha from Hawaii Via Satellite, which topped the charts and sold two million copies. As a backup against potential technical problems, Presley had performed a full-dress rehearsal on January 12 that was filmed and recorded for backup. This album presents a 20-track version of that show. The dress rehearsal has a less frantic, more relaxed feel than the broadcast performance, but also has the unmistakable air of a run-through. Still, it presents Presley at the peak of his 1970s live work and, if redundant by definition, on its own presents a worthwhile concert performance.
This release has omitted several songs from the original release. They are (Johnny B. Goode, I Can't Stop Loving You, Hound Dog, Introductions by Elvis, the medley Long Tall Sally & Whole Lot-ta Shakin' Goin' On). In contrast to that, Blue Hawaii was added to the Alternate Aloha vinyl release. The latter song plus the Hawaiian Wedding Song and K-U-U-I-P-O, were actually performed on the 14th in a post-concert session and part of the U.S. TV broadcast and released on the CD version. The CD also included Hound Dog and the Introductions by Elvis but omitted (Johnny B. Goode, I Can't Stop Loving You, the medley Long Tall Sally & Whole Lot-ta Shakin' Goin' On).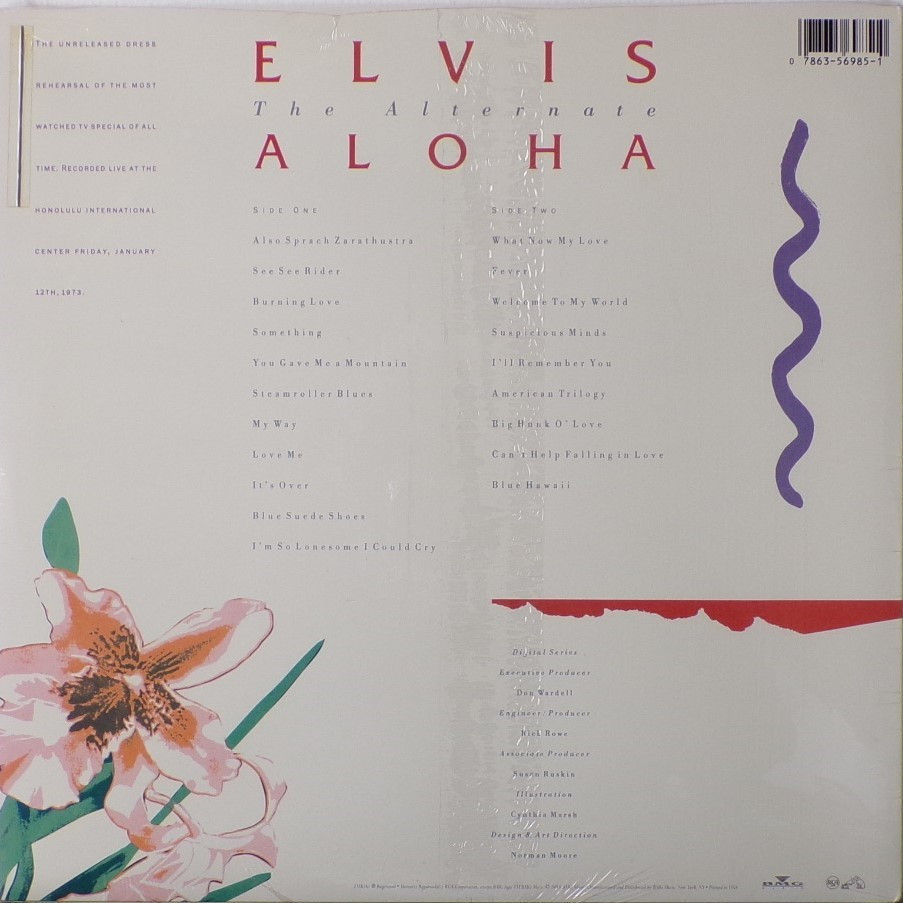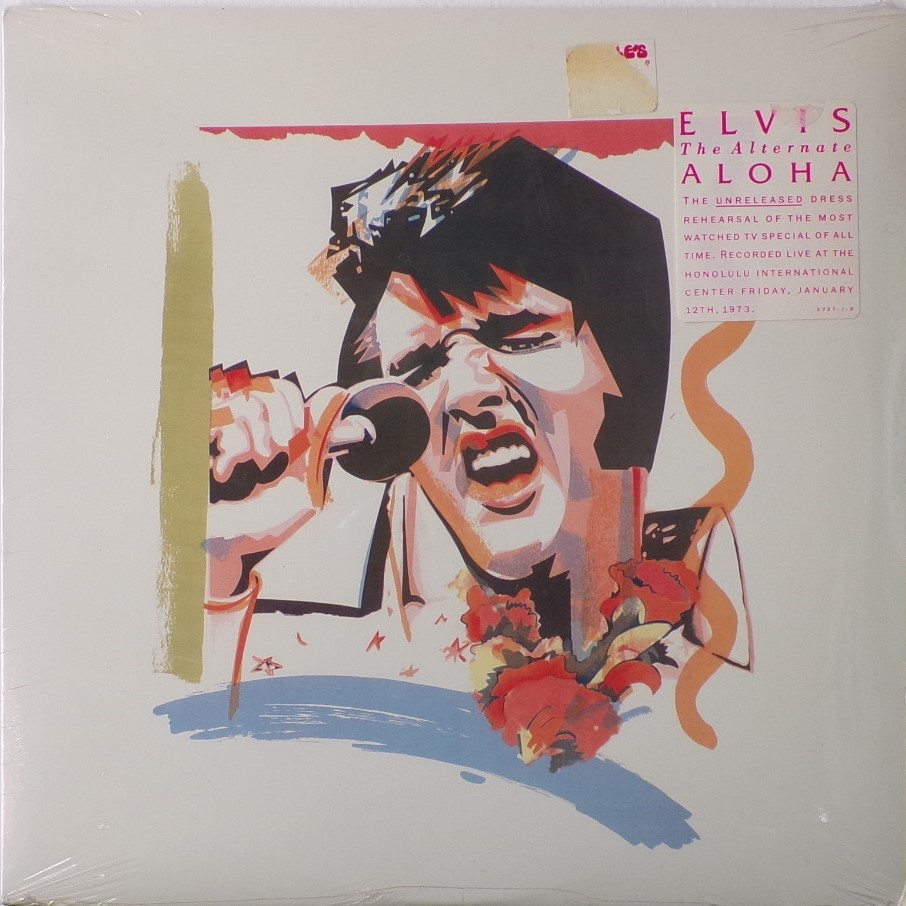 Details : 1988 Release
Front Cover : Elvis photo. Title & Catalogue number on hype sticker.
Rear Cover : All text back. Title across top. Printed in U.S.A. bottom right.
Label : Black dog near top.
Side A : Unknown
Side B : Unknown
Pressing Plant : Unknown
Matrix Number Side A : Unknown
Matrix Number Side B : Unknown
*NOTE* This copy is sealed. I have another release date of May 1988 for this album so this needs to verified.