Album Title : The Million Dollar Quartet
Catalogue Number : 2023 - 1 - R
Year Release : March 1990
Side One : You Belong to My Heart - When God Dips His Love in My Heart - Just a Little Talk With Jesus - Jesus Walked That Lonesome Valley - I Shall Not Be Moved - Peace in the Valley - Down by the Riverside - I'm With a Crowd But So Alone - Farther Along - Blessed Jesus (Hold My Hand) - As We Travel Along on the Jericho Road - I Just Can't Make It by Myself - Little Cabin on the Hill - Summertime Is Past and Gone - I Hear a Sweet Voice Calling - Sweetheart You Done Me Wrong - Keeper of the Key - Crazy Arms - Don't Forbid Me - Too Much Monkey Business - Brown Eyed Handsome Man - Out of Sight, Out of Mind - Brown Eyed Handsome Man
Side Two : Don't Be Cruel - Don't Be Cruel - Paralyzed - Don't Be Cruel - There's No Place Like Home - When the Saints Go Marching In - Softly and Tenderly - Is It So Strange - That's When Your Heartaches Begin - Brown Eyed Handsome Man - Rip It Up - I'm Gonna Bid My Blues Goodbye - Crazy Arms - That's My Desire - End of the Road - Black Bottom Stomp - You're the Only Star (In My Blue Heaven) - Elvis
Brief History :
One of the most important things to remember about this album is it's really just four guys in a room shooting the breeze, goofing around, and stumbling through a few old songs. This wouldn't be especially interesting under most circumstances, but the three guys in question happen to be Elvis Presley, Jerry Lee Lewis, and Carl Perkins, which, as you might imagine, makes quite a difference. Perkins was doing a recording session at the Sun Records studio in Memphis on December 4, 1956, with Lewis playing piano on the date, when Elvis, back in Memphis after a stretch on the road following his breakthrough as a major star, stopped by to say hello. Elvis, Perkins, and Lewis began casually jamming -- mostly on old gospel tunes they remembered from a shared Baptist upbringing -- and Sam Phillips had the presence of mind to record the proceedings. (A famous picture taken that day shows Johnny Cash with the group, but if he stuck around to sing a few tunes, he stayed far enough away from the mike to be absent on these recordings.) To call the performances "casual" taxes understatement, and if you were expecting the ultimate rockabilly moment from these guys, be aware it's about halfway through the session before rock & roll begins to rear its head, and even then it's obvious these guys can play "Down by the Riverside" off the top of their heads far more easily than "Too Much Monkey Business." But half the fun of this album is the playful casualness of the performances (and hearing three of rock's great legends in such non-legendary form). And their personalities certainly manifest themselves right off the bat: Elvis is effortlessly authoritative, and at once amused and perplexed by his sudden fame, while Lewis harmonizes like a wildman, determined to show he's the star of the show, and Perkins displays his characteristic modesty, content to add churchy harmonies and the occasional signature guitar break. It's also fun to hear Elvis imitate Jackie Wilson imitating him, and Perkins marvelling at the genius of Chuck Berry. Million Dollar Quartet is really just three guys goofing off -- but from these three guys, "goofing off" is really something to hear.
Brief History :
Though much of these recordings were released before in bootleg format, this particular album was a first USA commercial release & digitally remastered.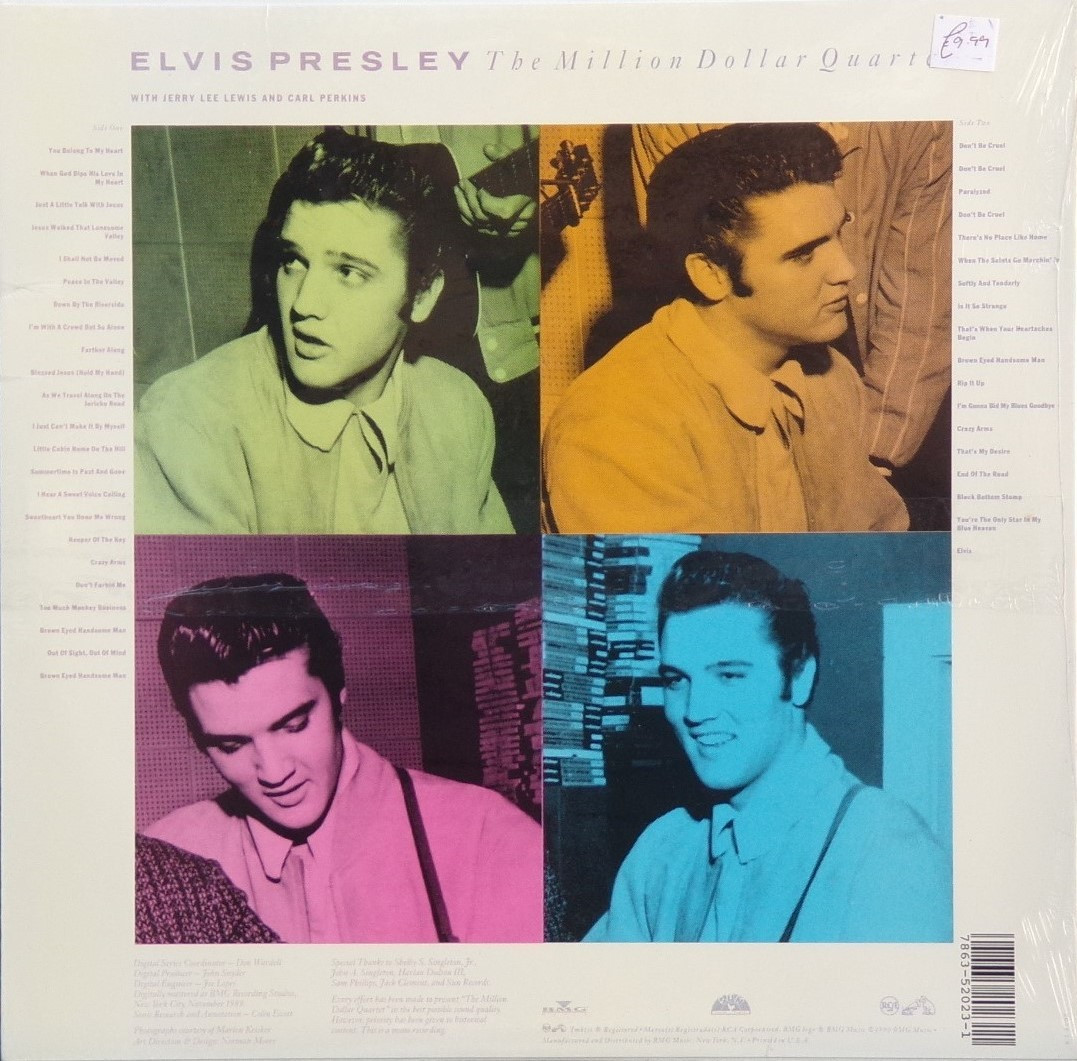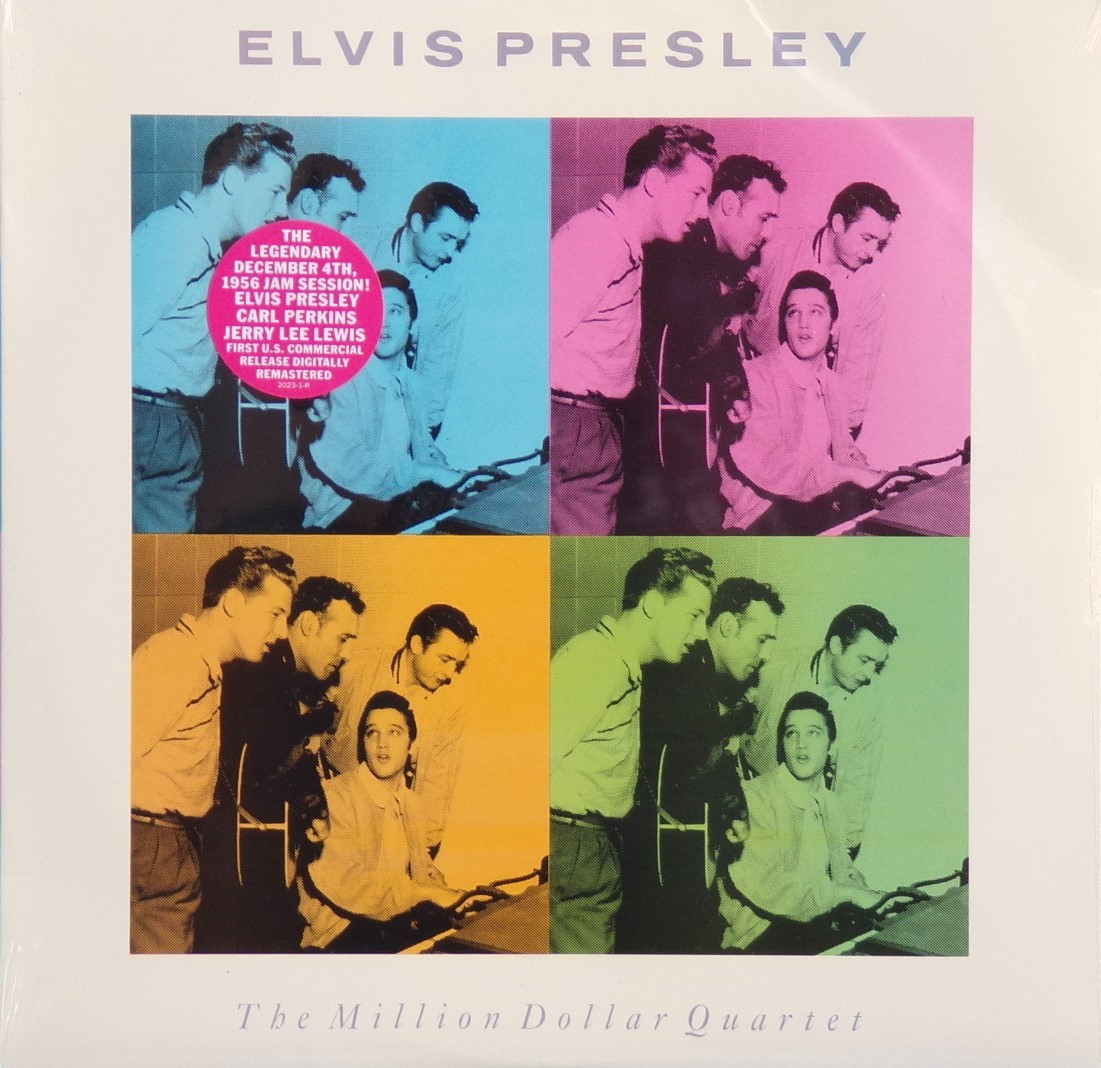 Details : 1990 Release
Front Cover : Elvis photo. Title & Catalogue number on hype sticker.
Rear Cover : 4 photos of Elvis. Catalogue number bottom side right. Printed in U.S.A. bottom right.
Label : Unknown
Side A : Unknown
Side B : Unknown
Pressing Plant : Unknown
Matrix Number Side A : Unknown
Matrix Number Side B : Unknown
*NOTE* This copy is sealed. Hype sticker.