Album Title : Aloha from Hawaii via Satellite
Catalogue Number : CPD2-2642
Year Release : 1975
Side 1 : Introduction: Also Sprach Zarathustra - See See Rider - Burning Love - Something - You Gave Me A Mountain - Steamroller Blues
Side 2 : My Way - Love Me - Johnny B. Good - It's Over - Blue Suede Shoes - I'm So Lonesome I Could Cry - I Can't Stop Loving You - Hound Dog
Side 3 : What Now My Love - Fever - Welcome To My World - Suspicious Minds - Introductions by Elvis
Side 4 : I'll Remember You - Long Tall Sally / Whole Lot-ta Shakin' Goin' On - American Trilogy - A Big Hunk o' Love - Can't Help Falling In Love
Brief History :
Aloha from Hawaii: Via Satellite is a live concert album by Elvis Presley, released by RCA Records in February 1973 and peaked on the Billboard chart in the spring of the same year. Despite the satellite innovation, the US did not air the concert until April 4. Aloha from Hawaii (which was a worldwide ratings smash) went to #1 on the Billboard album chart. The album dominated the charts, reaching #1 in both the pop and country charts in the US.
Aloha from Hawaii was a two-disc set—only the second such release of Presley's career (the first being 1969's double set From Memphis to Vegas/From Vegas to Memphis, which contained one album each of studio and concert recordings). It was initially released only in quadraphonic sound, becoming the first album in the format to top the Billboard album chart. A stereo version was initially released only through the RCA Record Club, but later replaced the quadraphonic version in record stores.
The album contains all the live performances from the TV special, but omits the five songs Presley recorded after the show and which were featured on the original broadcast; these would be issued later on the album Mahalo from Elvis.
The album was certified gold on February 13, 1973, platinum and 2x platinum on May 20, 1988, 3x platinum on July 15, 1999 and 5x platinum on August 1, 2002 by the RIAA.
This is the last soundtrack album that Presley released during his lifetime (later soundtracks for the TV special Elvis in Concert and the documentary This Is Elvis were released posthumously).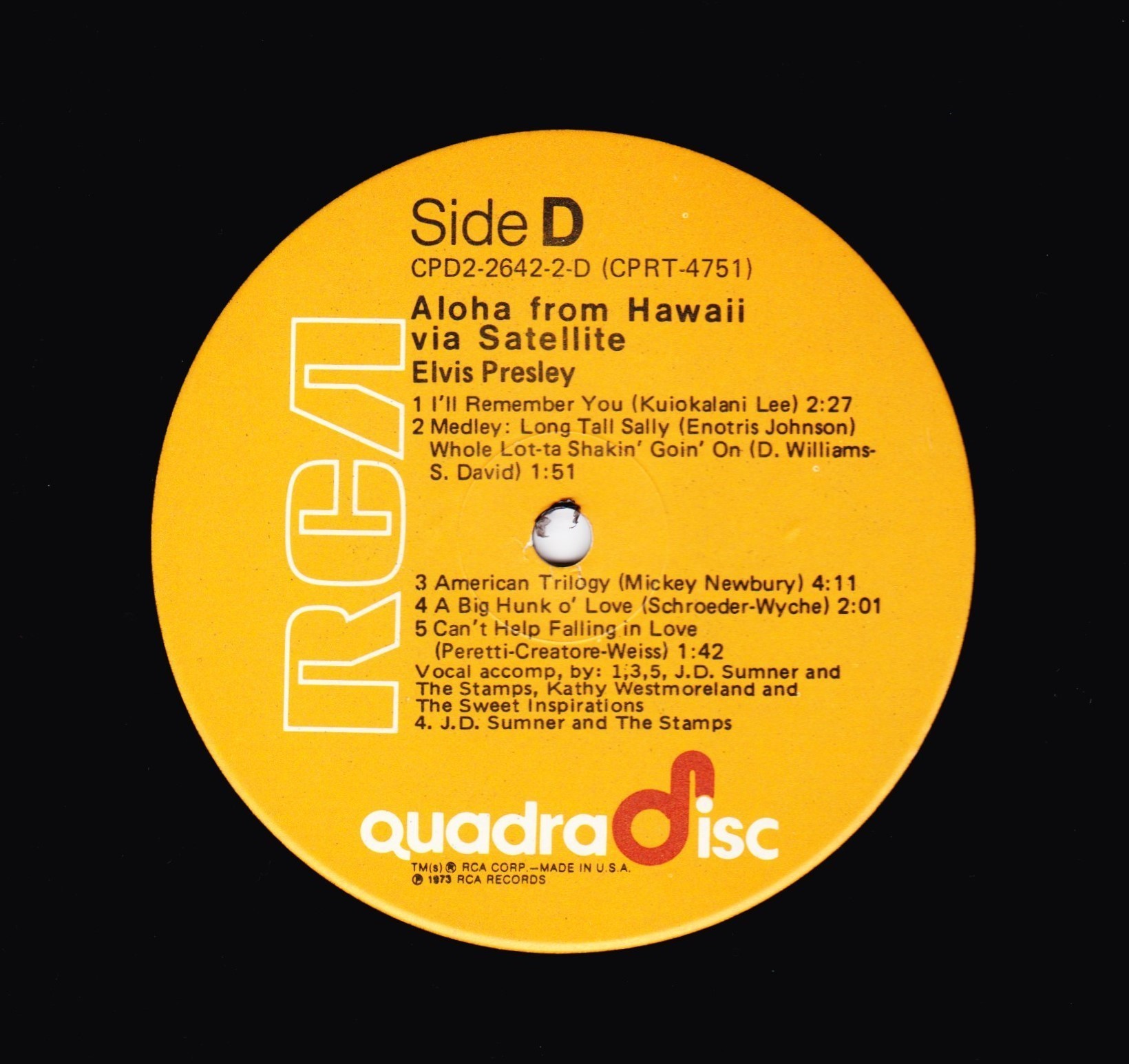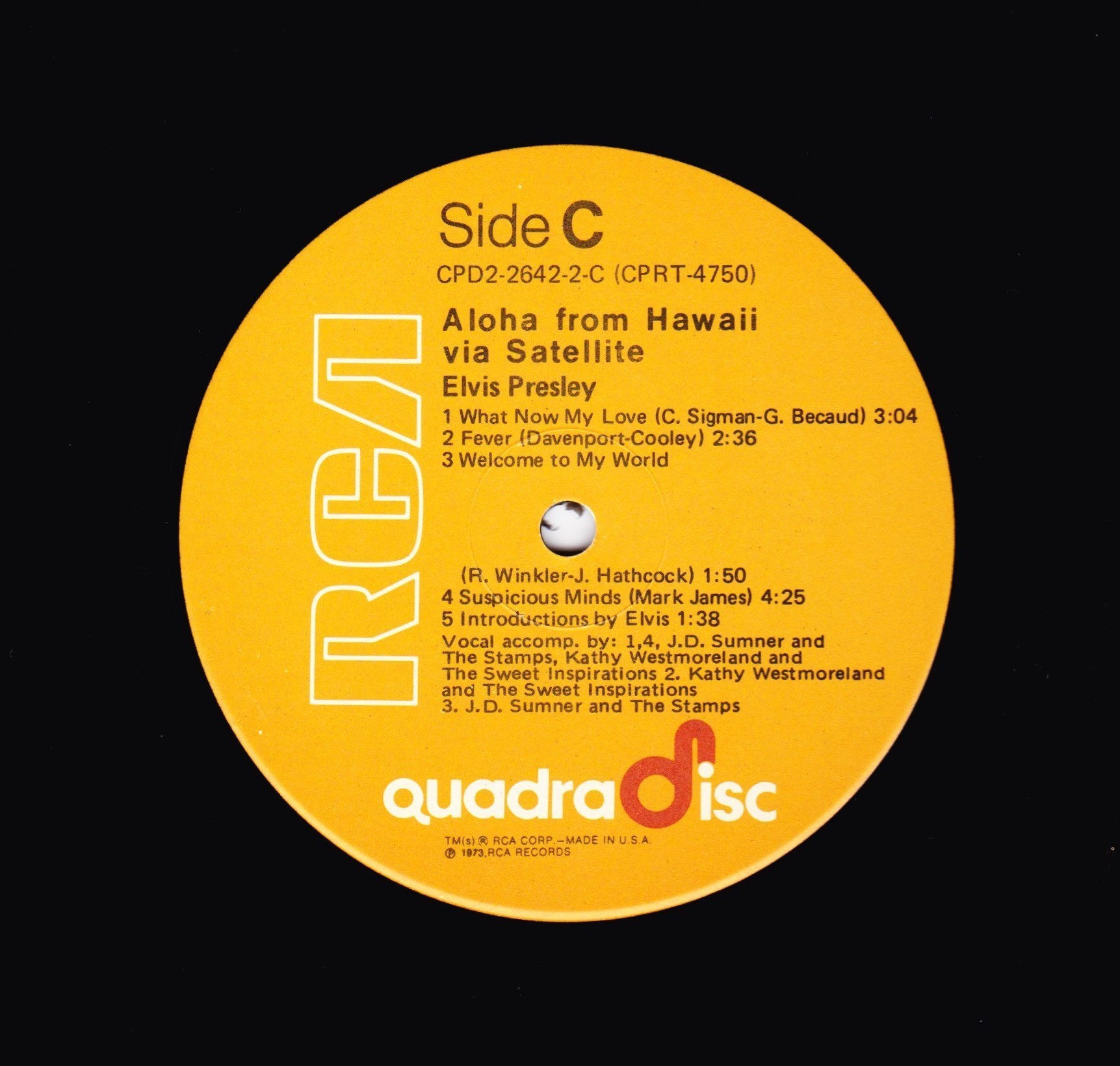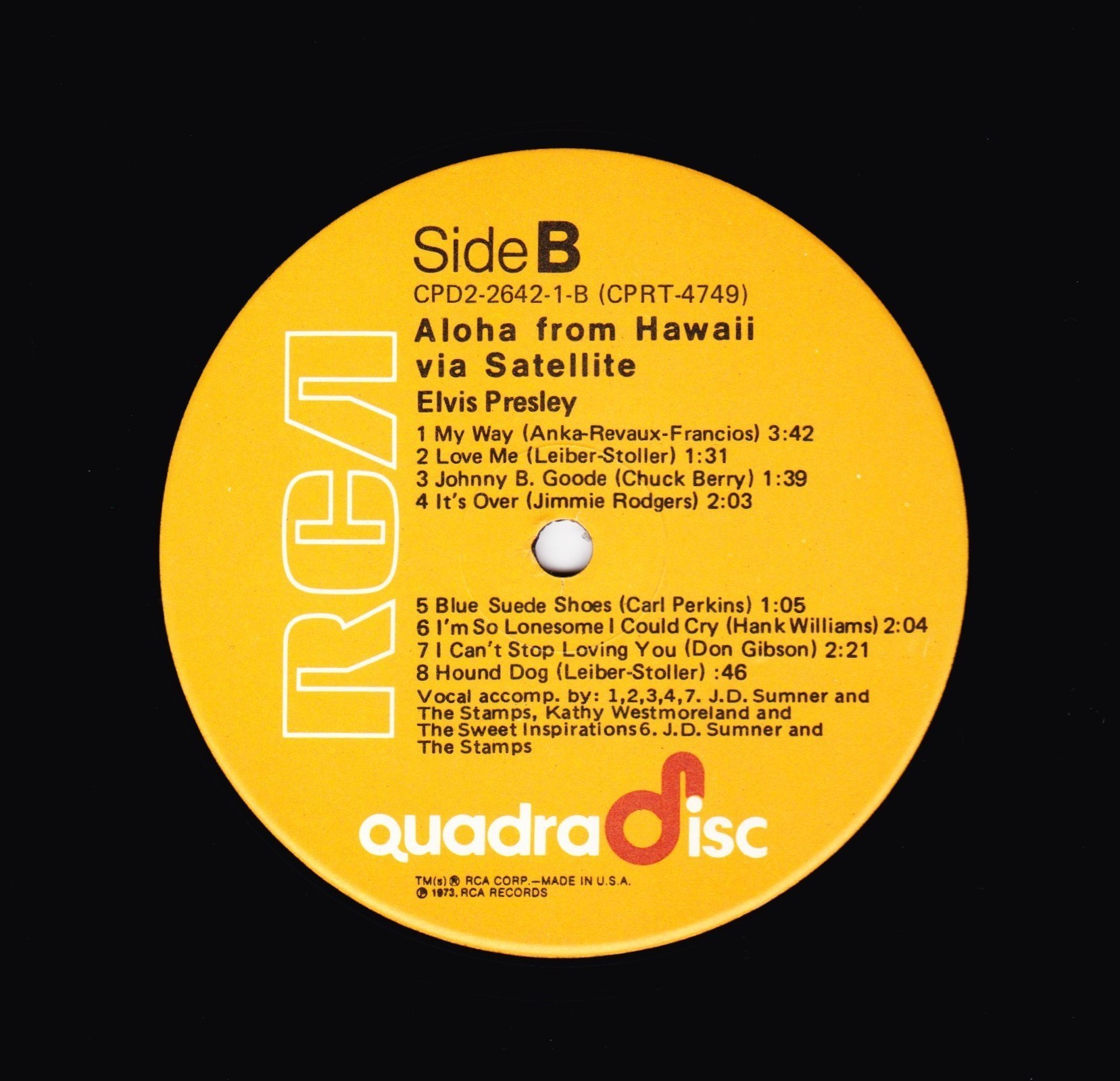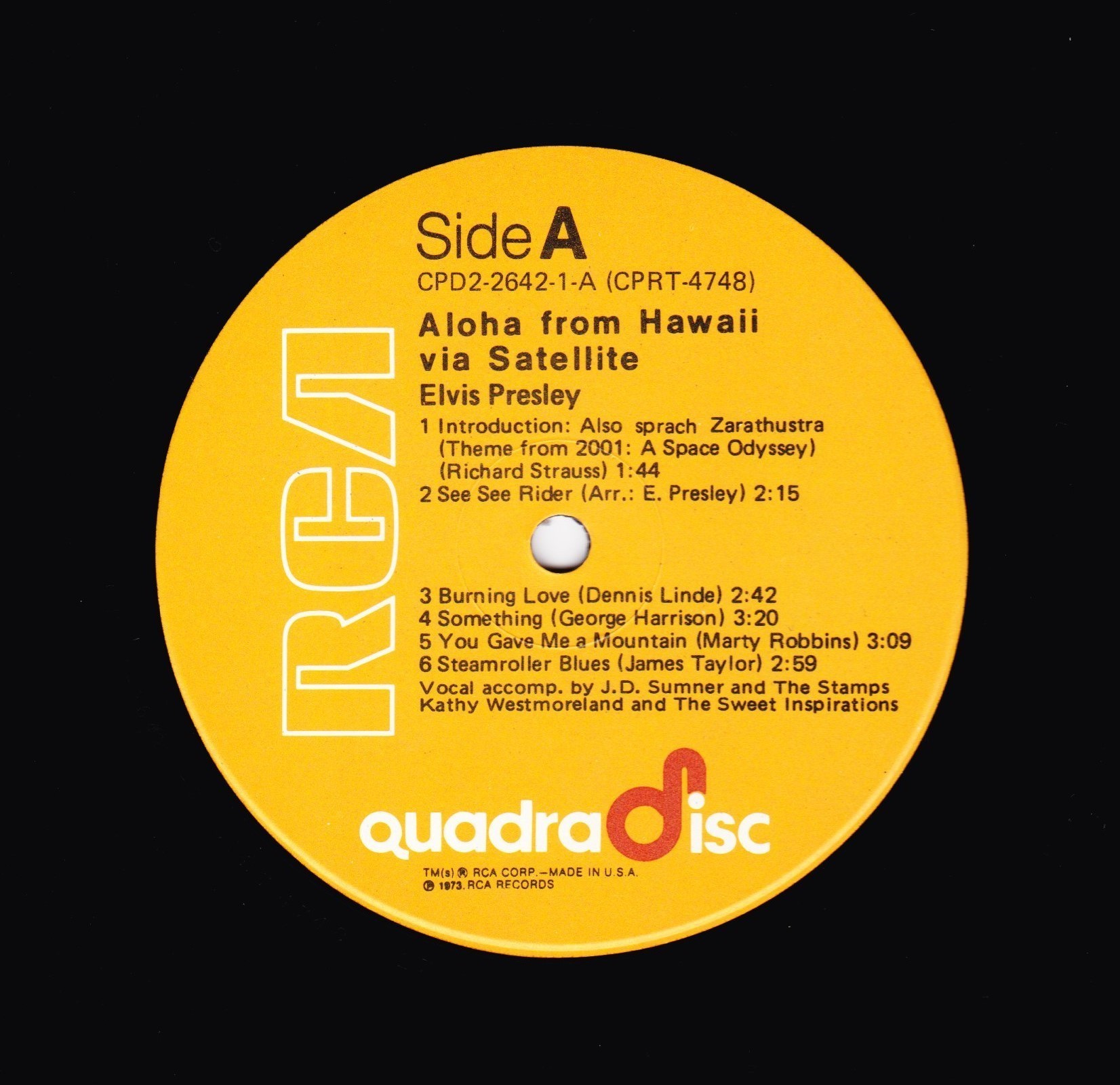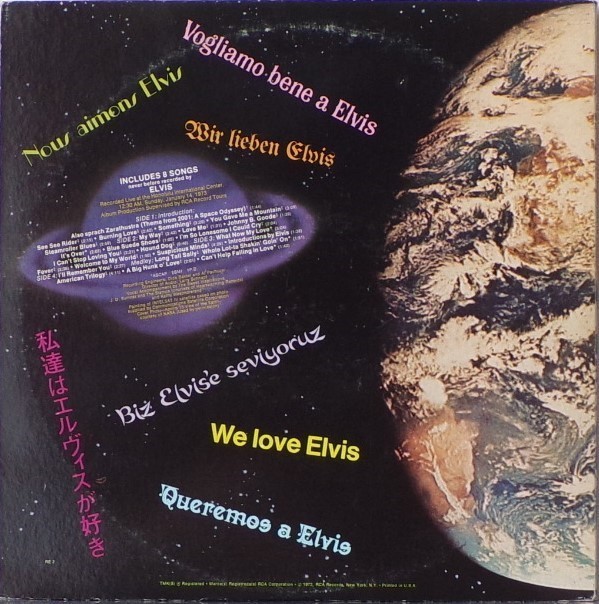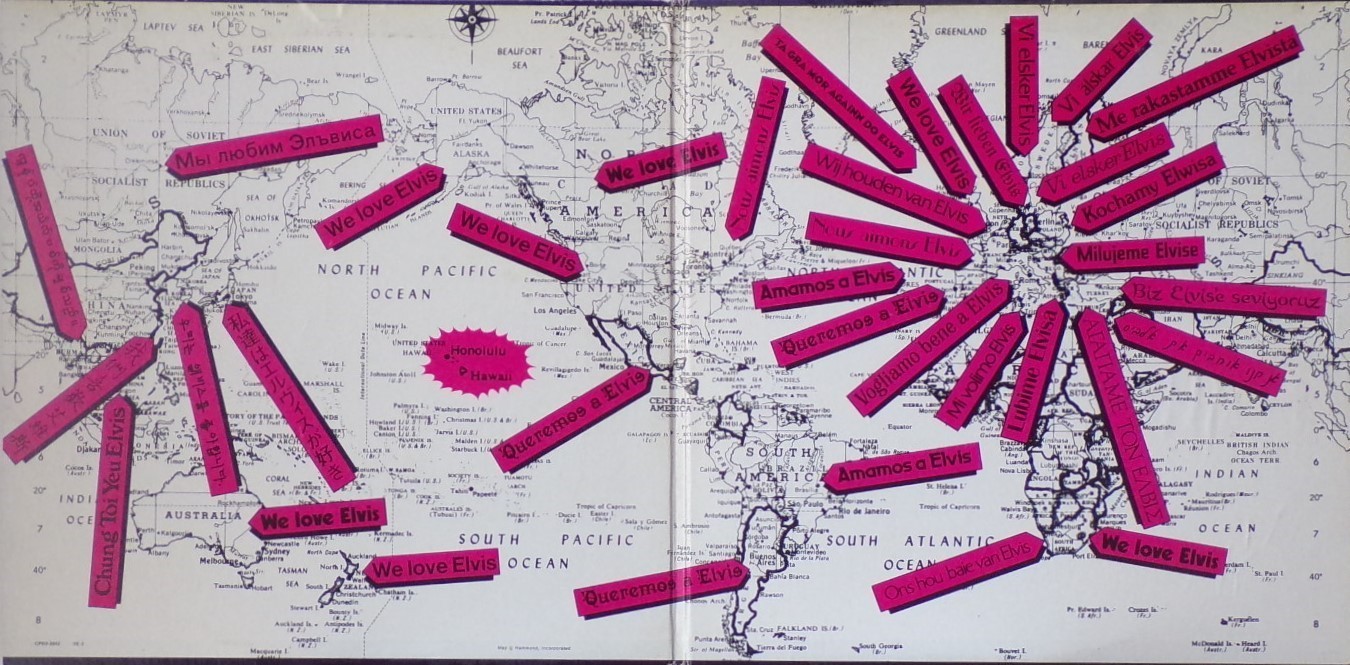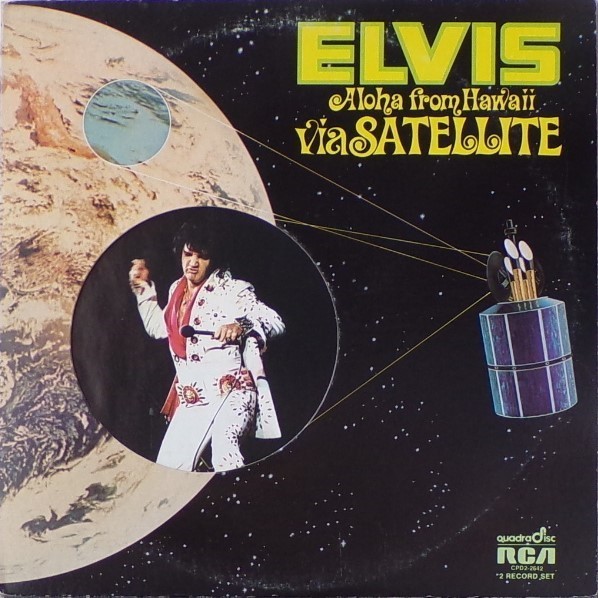 Details : Gatefold 1975 Reissue
Front Cover : Die cut. Title top right. Catalogue number bottom right. Quadradisc bottom right.
​​Rear Cover : Advertises "Includes 8 songs never before recorded by Elvis" & song titles. Printed in USA bottom.
​La​bel : Orange. Quadradisc vinyl.
Side A : Record 1 Catalogue Number under Side A.
Side B : ​Record 1 Catalogue Number under Side B.
​Side C : Record 2 Catalogue Number under Side A.
Side D : Record 2 Catalogue Number under Side B.
​​​Pressing Plant : Indianapolis
​​​Matrix Number Side A : CPRT - 4748 - 27 6 (Machine Stamped) I (Hand Etched)
Matrix Number Side B : CPRT - 4749 - 30 B4 (Machine Stamped)
​Matrix Number Side C : CPRT - 4750 - 25 A5 (Machine Stamped)
Matrix Number Side D : CPRT - 4751 - 24 A6 (Machine Stamped) 6? OR G? (Hand Etched)
*NOTE* New catalogue number. Front cover die cut and Quadradisc on the bottom right corner. Rear cover Saturn shape includes song titles & "RE2" bottom left. Catalogue number inside gatefold bottom left with "RE2".